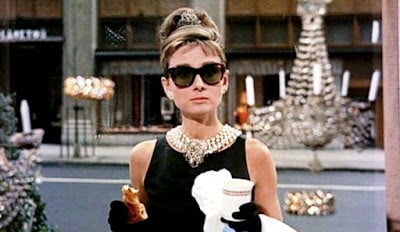 The 1961 movie "Breakfast At Tiffany's" and its main character Holly Golightly, played by Audrey Hepburn, are on our minds these days due to an exciting new development. Tiffany & Co. has opened the Blue Box Cafe. Finally, fans can have Breakfast at Tiffany's.
And what could be better for locals or out-of-towners to first wake up, before getting breakfast, at the living embodiment of Ms. Hepburns townhouse apartment in the film. One can't help but associate 1871 House with the film Breakfast at Tiffany's for two main reasons: 1. Holly Golightly's apartment was set inside a brownstone townhouse that looks like 1871 House and 2. The actual brownstone from the movie is located just a few blocks north of 1871 House on a similarly tree lined brownstone block. And Tiffany's is located but a mere few blocks South West of 1871 House.
Fans of the iconic film can easily re-create the romantic mood of the movie by staying in one of the 7 apartments inside the 1871 House. Like in the movie, the apartments are accessed by a curvaceous stairwell. But don't expect to find Mr. Yunioshi standing at the top of the staircase in a towel. Guests at the 1871 House are generally properly dressed.
In the early morning hours, after spending a cozy night at the 1871 House, hail a taxi, walk over or even hitch a ride on an elegant horse drawn carriage to Tiffany and Co. on Fifth Avenue & 57th Street and enjoy coffee and croissants at the Blue Box. Miss Golightly would clearly approve. Finally, walk a few blocks North on Lexington Avenue and visit Holly Golightly's apartment building on East 69th Street.
All this talk about Breakfast at Tiffany's has us thinking about one of our very favorite reviews written by a prior guest. Here it is:


1871 House Reminds me of the Movie "Breakfast At Tiffany's"If you've seen the movie "Breakfast At Tiffany's," you'll recall Holly Golightly (Audrey Hepburn) lived in a NYC walkup apartment converted from a city townhouse. Whenever I think of 1871 House, I'm reminded of the winding staircase in the movie with apartments on every floor. At one time in its storied past, 1871 House served the same purpose, except now its former apartments are elegant rooms at a quiet and cozy inn. It's very romantic for couples and quiet and secure for singles and families.In one of the nicer neighborhoods in the city, the 1871 House is convenient to all sorts of amenities, the bus & subway, shops & businesses, even Bloomingdale's, are all are a short walk away. Within one block are several restaurants and grocery stores, some of which are open 24 hours. For the best bagels, try The Bread Factory in the same block on Lexington. Traveling alone, I always felt safe, even when out walking at night.For me, staying at 1871 House is SO much better than a city hotel, no matter how upscale. You feel like you live in the city, not just passing through. The prices are competitive with 3 and 4 star hotels in NYC. I stayed at one of those "posh" hotels on Central Park South. The room was nice but so small I could barely turn around. I also stayed at a nationwide chain hotel in NYC and was unpleasantly surprised at how poorly kept the facilities were. From what I've seen in "Sex and the City," the room decor at the 1871 House rivals those in the Stanhope Fifth Avenue. True, there's no room service at the 1871 House, but then, if the city loses power, you don't have to climb 22 stories to get to your room!The innkeepers, Warren & Lia, are friendly & helpful without being intrusive. I can't imagine staying anywhere else when I visit New York. For a "Home away from Home" experience, or, if your home's like mine, a MUCH NICER Home away from Home, visit the 1871 House and stay a while! – A guest from Alexandria, Virginia, USA


So there you have it; 1871 House, Tiffany's, a horse drawn carriage ride, a self-designed tour with stops in Central Park, Holly Golightly's house on East 69th Street and breakfast. Is there a better way to spend a late Fall day?