The Garden Room
TYPE: Half-Floor Suite
MAX GUESTS: 1
BED SIZE: 1 queen-size
ROOM SIZE: 440 sq. ft.
TERRACE: 500 sq. ft.
On the parlor floor resides perhaps the most unique of suites at 1871 House, the Garden Room. Guests will be immediately transfixed by the floor-to-ceiling glass windows which take up most of the southern wall of the suite. But the real treasure is the private outdoor sanctuary that is the accompanying garden terrace, a truly rare find for affordable New York City accommodation. The expansive, verdant roof deck plays host to a multitude of roses, lavender, and other plants, with jardinières and wooden planters framing the deck furniture: a breezy teak bench, lazy steamer lounge chairs, and a 9-foot umbrella.
Though some guests will no doubt want to spend much of their time on the terrace, the Garden Room itself makes for an extraordinary place to take a moment to yourself and enjoy a coffee or quiet drink away from the hustle of the city. Soaring 11'10" foot ceilings look down on this quiet room and its carved wood and marble fireplace mantle, tall Normandy armoire, unique four-poster queen-size bed, and mahogany Philadelphia breakfast table. The room's daybed makes for an enticing nap spot! Another period throwback can be found in the southeast corner: a sculptured ceramic washbasin with wooden cabinet, augmenting the hand basin found in the bathroom.
Please note that there is no kitchen or access to a kitchen in the apartment. Provided is a small fridge, electric kettle, small microwave oven and sink in the room. The bathroom is a fully tiled, narrow space with antique style brass hardware and a merged shower and toilet area.
The room includes a 26″ flat-screen TV with ROKU attachment for streaming your favorite shows or movies.
We think you should know:
As 1871 House is a historical building and retains much of its 19th Century structure, it is not suited for all accessibility needs.
This home was built in 1871, so there are signs of wear and tear.
The charming late 1800s townhouse is not a modern structure – think creaky floorboards, sloping wood floors and such.
There's no elevator in the building and this suite is one flight up from the entry hall level.
This suite is 14 steps up from the lobby.
This suite consists of one large room without a separate bedroom area.
The compact bathroom has a wall-less shower (see photos).
Garden Room Windows are inoperable. The Terrace door is operable.
This suite is not equipped with an intercom or buzzer system.
While none of the other guest rooms have access to the terrace, the owner and/or the owner's family may access the terrace via a private secondary staircase.
a/c operable during months June-October (supplemental fee).
Although there are 2 beds in the suite, the maximum number of primary guests allowed is one. The primary guest may request permission to have 1 temporary visitor (supplemental fee). Overnight visitors must be pre-approved by the Host.
The room's daybed is smaller than standard U.S. Twin size (30″ x 72″ vs. 39″x75″). If your intention is to use the daybed for sleeping, please double check the measurements prior to booking.
The Garden Room is located in the rear portion of the house and is one of the quietest rooms in the house. As this is a stacked house, you may hear your neighbors above, below or next to you.
The fireplace is only decorative.
Pets & smoking are not permitted.
There is no kitchen or access to a kitchen in the Suite so don't expect to do much cooking here. Provided is a 3.1 cu.ft. fridge with separate freezer, small microwave oven and electric kettle. The addition of cooking appliances is not permitted. We're sorry for any inconvenience.
One TV is included. We include a ROKU device for streaming. The choice of what to watch is up to you. Through the ROKU device, you have access to all available free and subscription based apps like Netflix, Amazon Prime, FOX Nation, etc. To access fee-based programming, you must be a subscriber and login with your own username and password. Cable TV is not provided.
During warm weather months, the host or host's representative service and water the plants on the terrace accessed via the cottage opposite the Garden Room.
Garden Room terrace photos are representative of how the garden and plants appear in warm weather months. Guests booking for dates in the late Fall, Winter and early Spring months will observe the garden terrace looking different from the photos as plants are not blooming and shrubs have lost their leaves. Additionally, winter months in New York can be extremely cold so guests will not want to spend time on the terrace.
Spring cleaning and maintenance of the terrace takes place in later May as the temperature gets warmer. Watering & maintenance are performed by staff via a secondary means of access.
Terrace Use: Terrace may be used between the hours of 8 a.m. – 9 p.m. In regard to terrace use, the Garden Room occupant should keep in mind that this is a close proximity small building with immediate neighboring buildings. From Spring through Fall, many people in the building and immediate surrounding keep their windows open so there should be no music, speaking loudly or multiple people on the Terrace (no one beyond the registered Garden Room guests).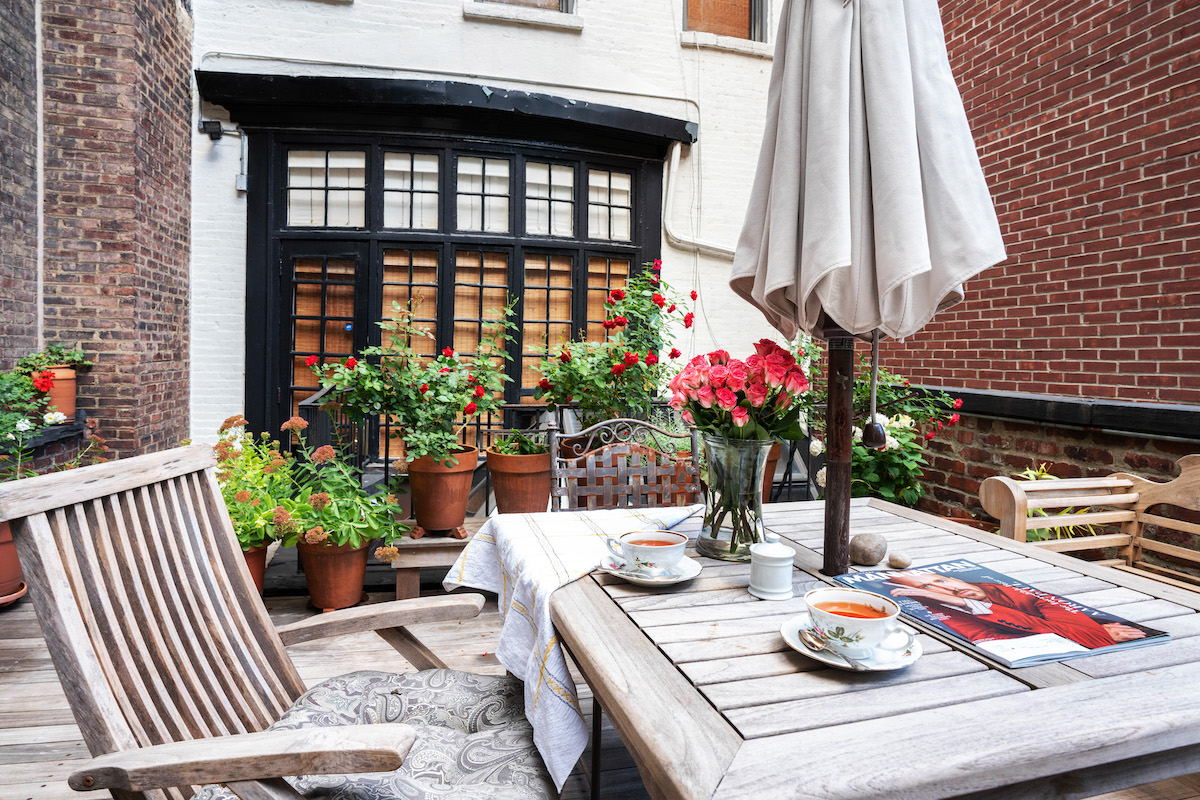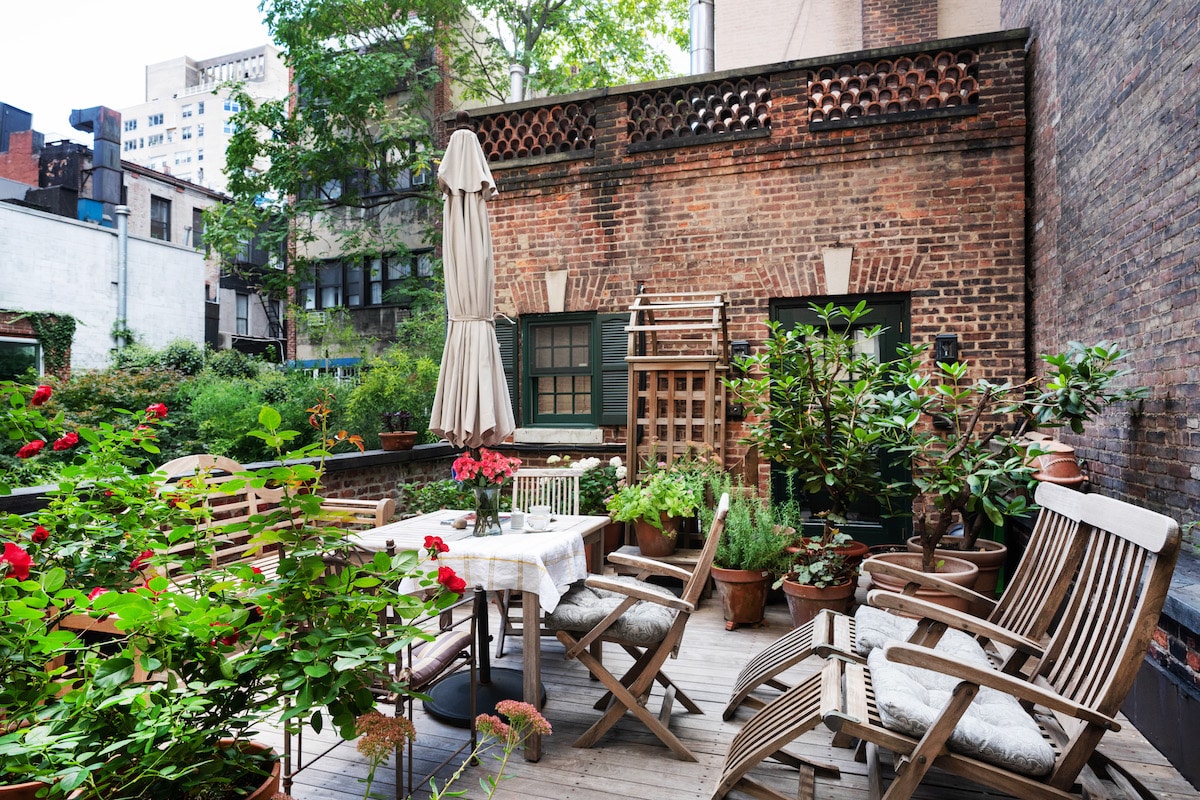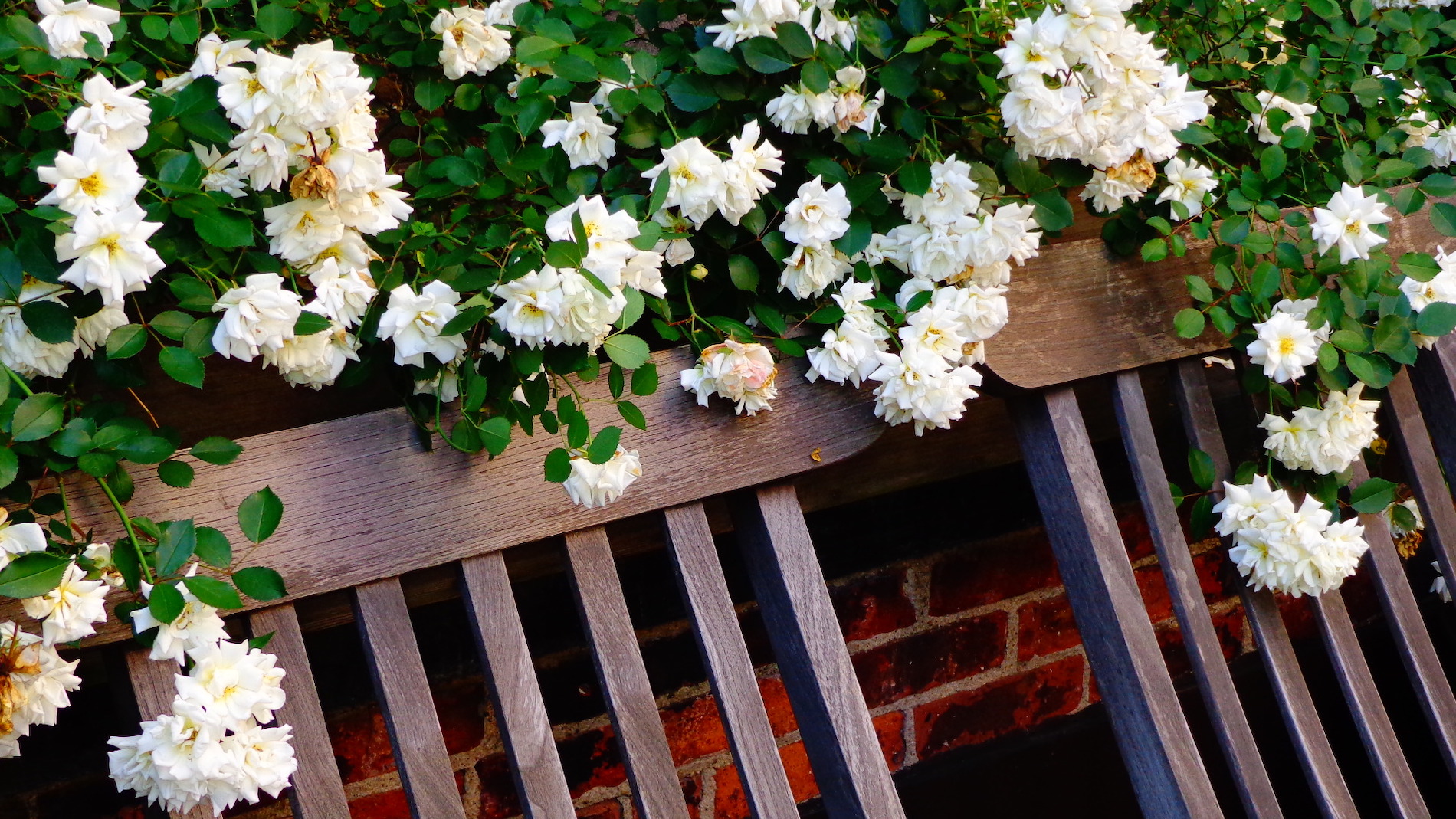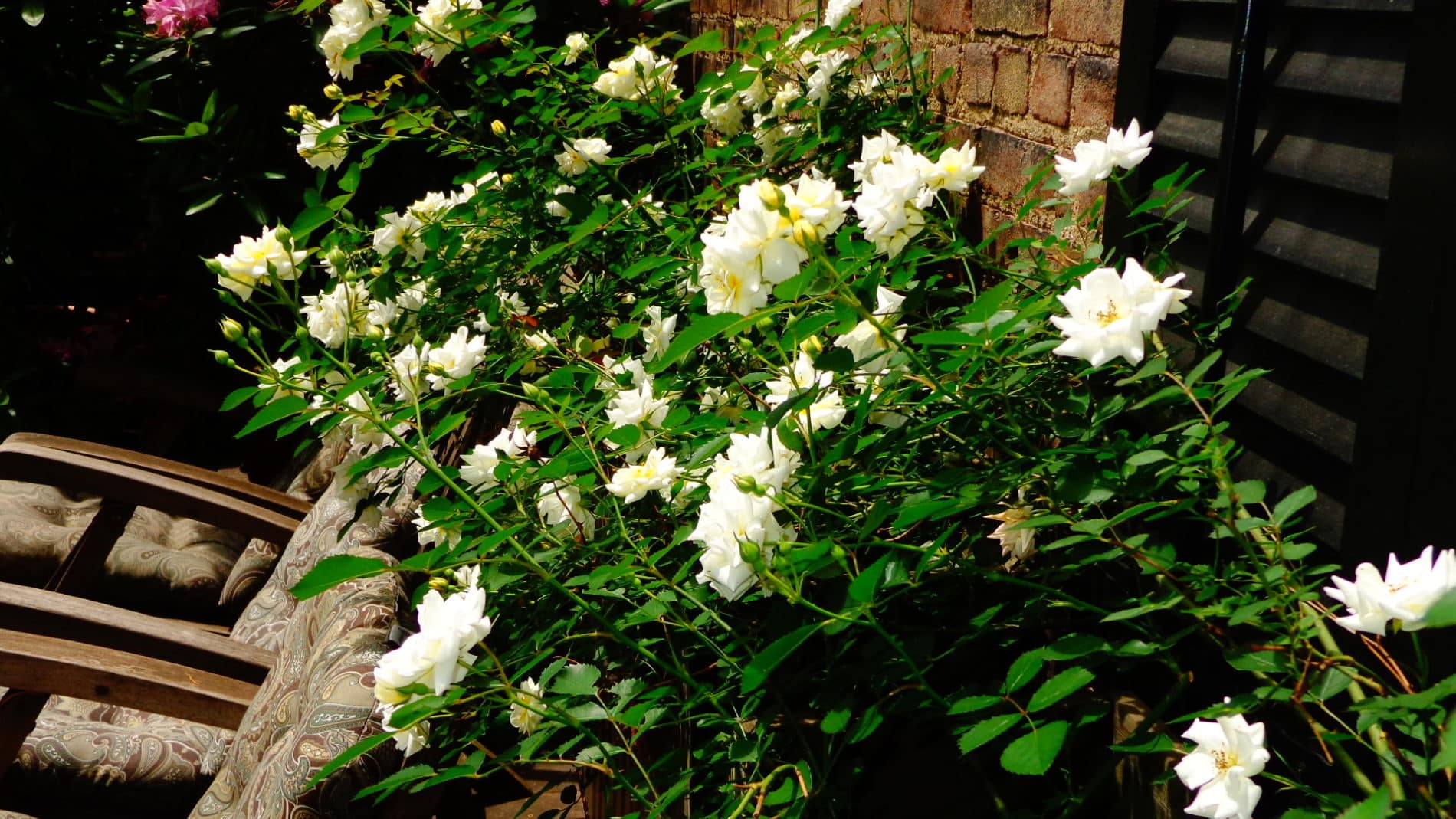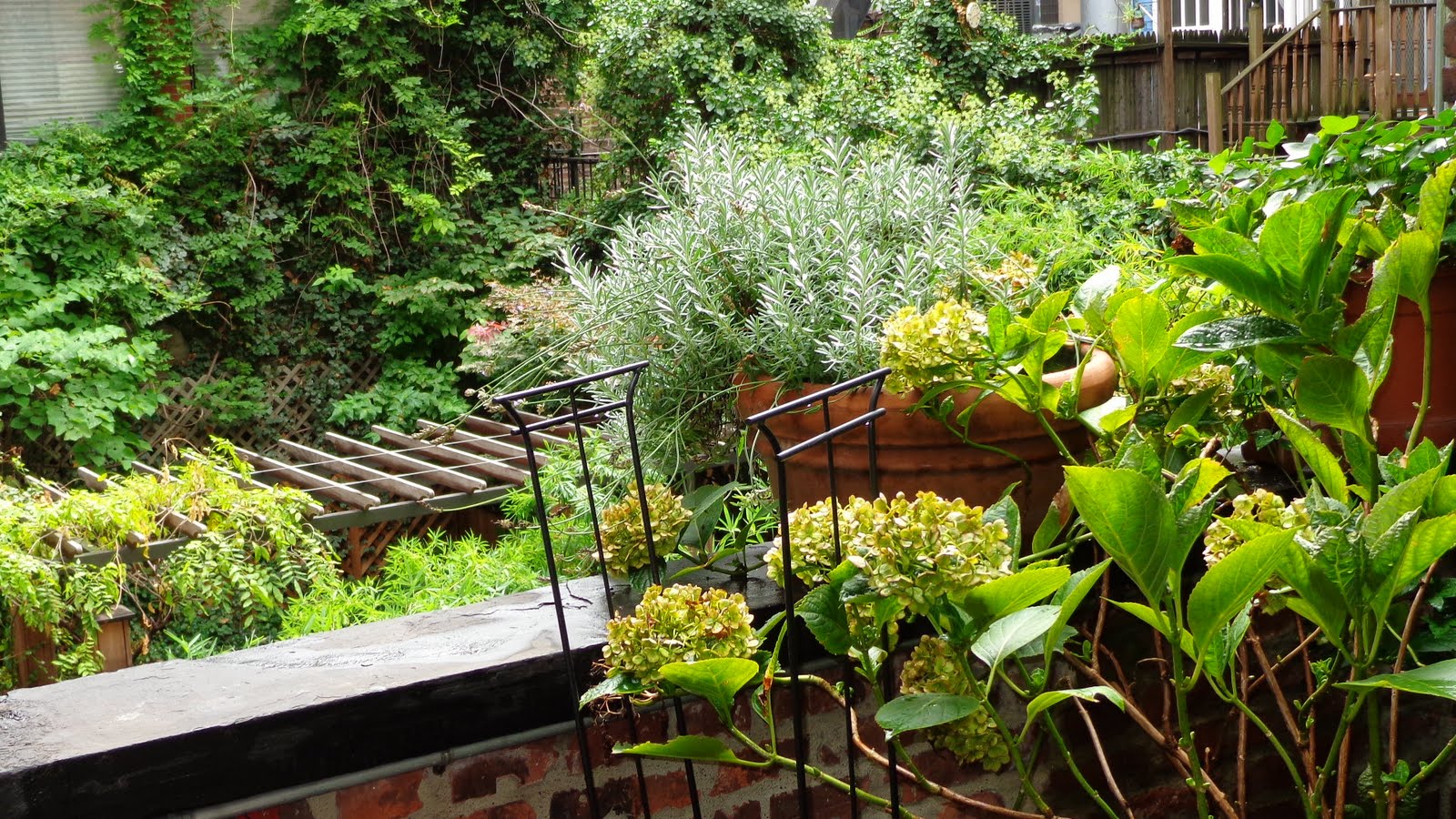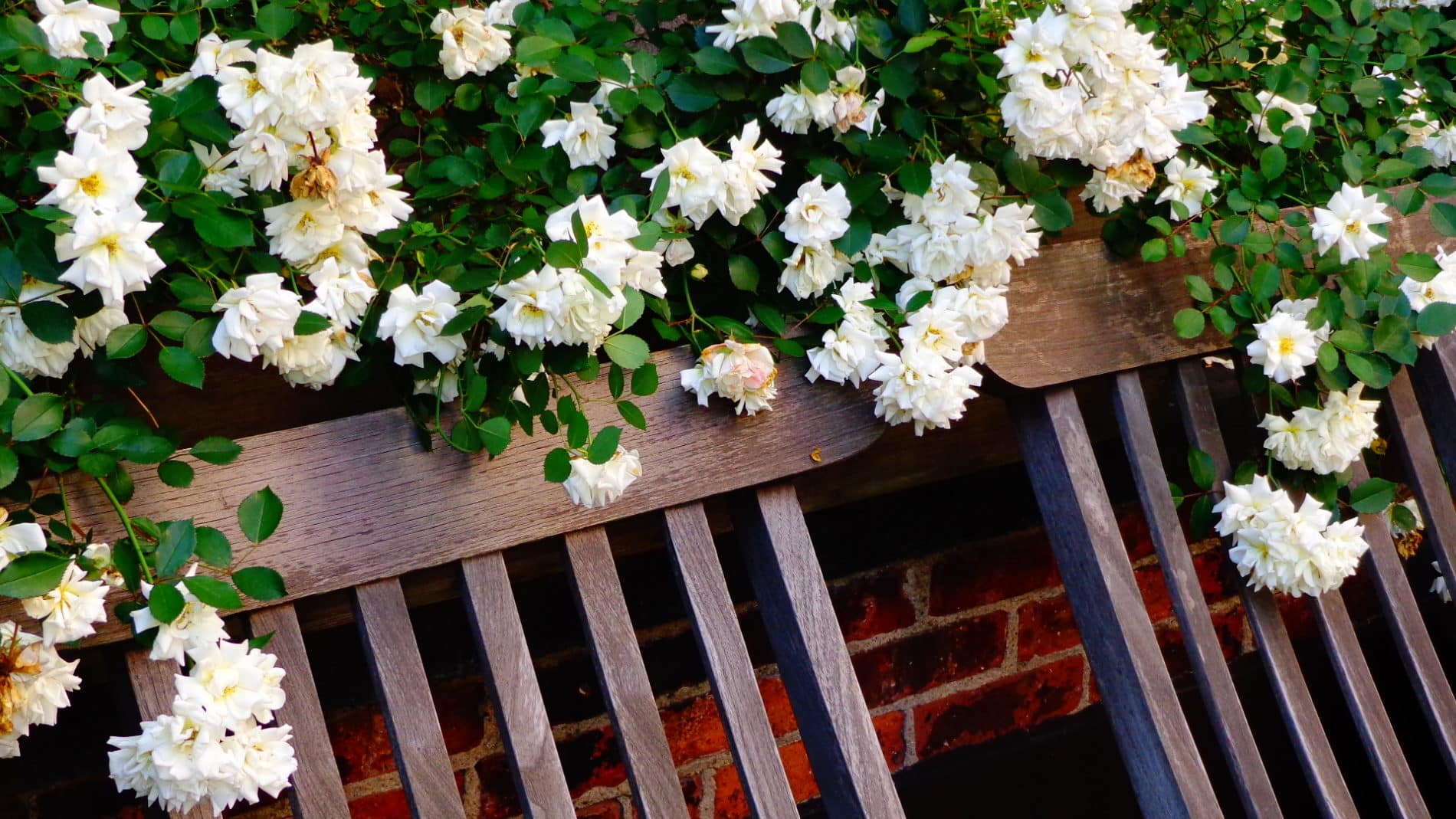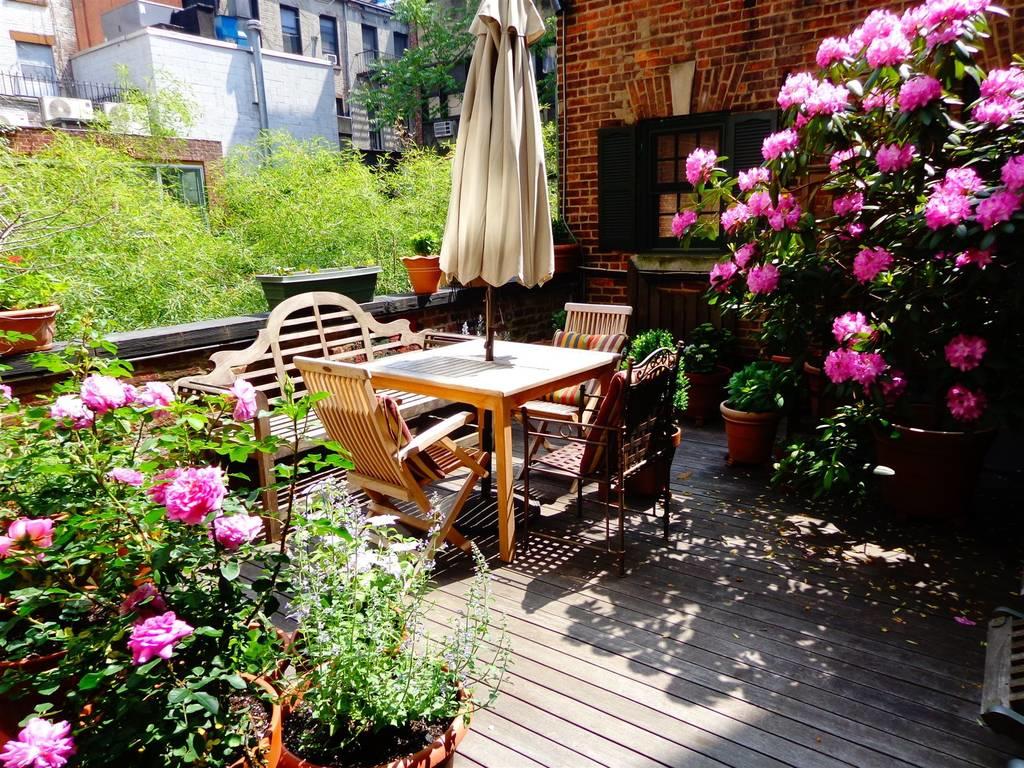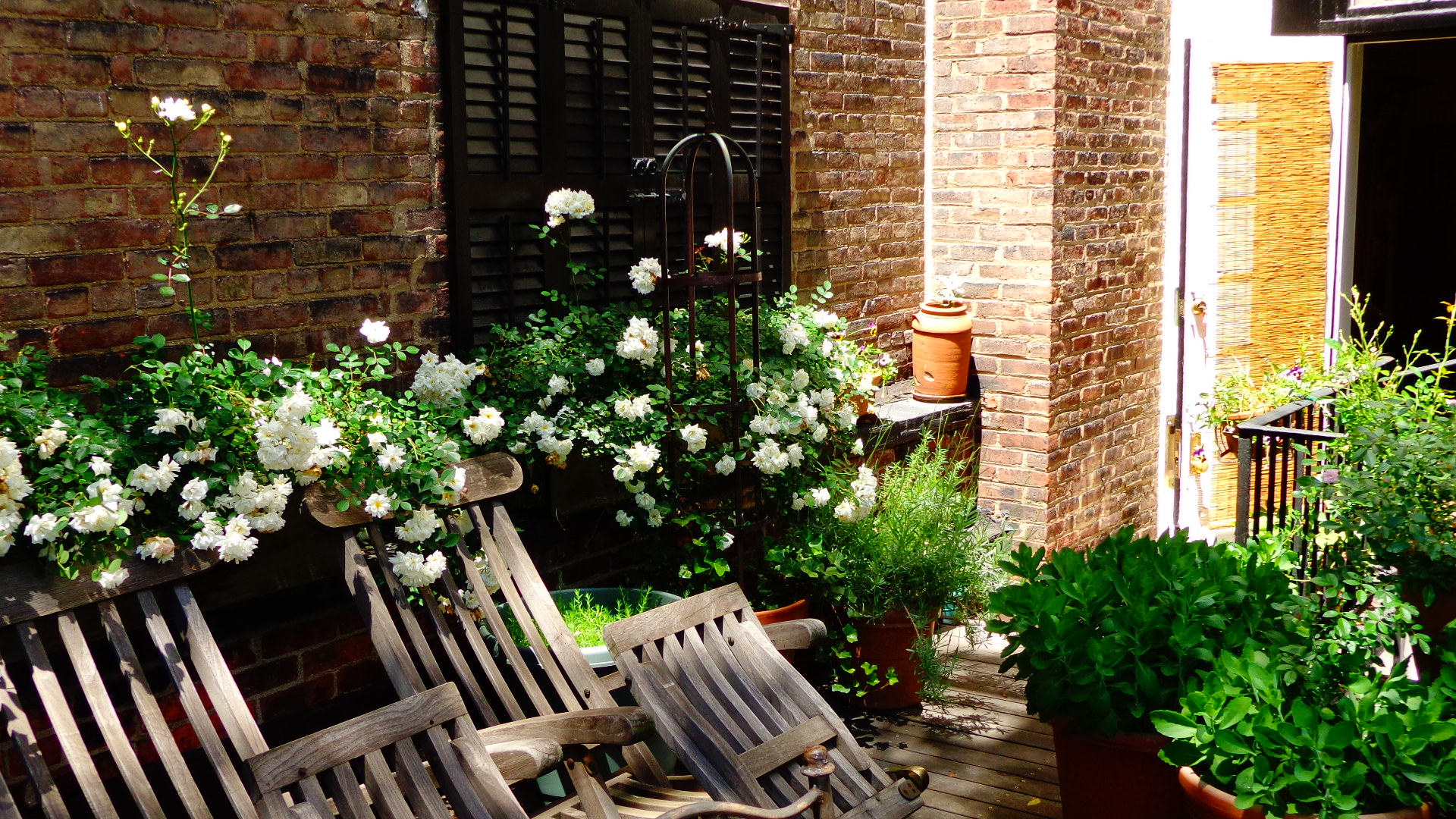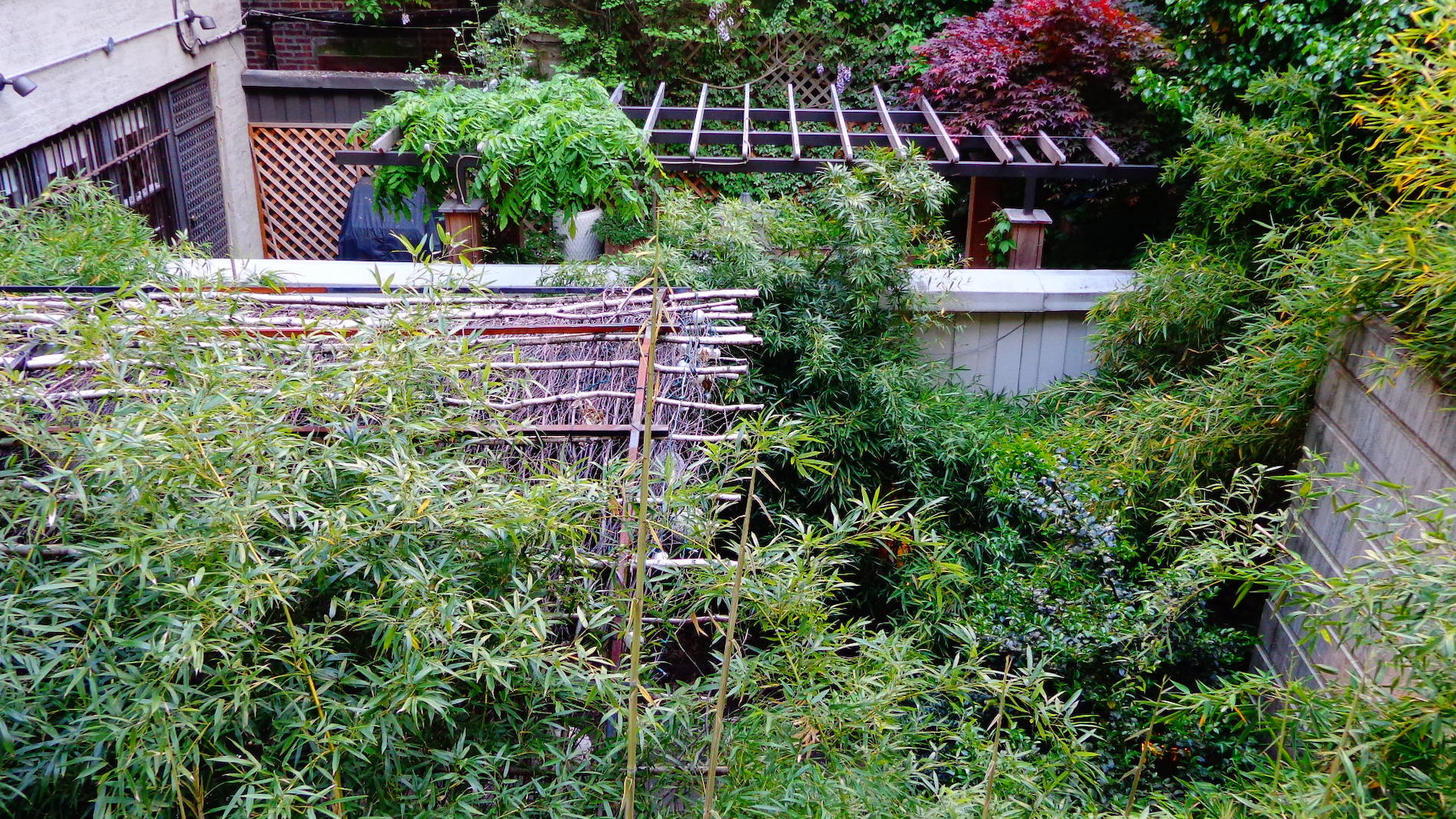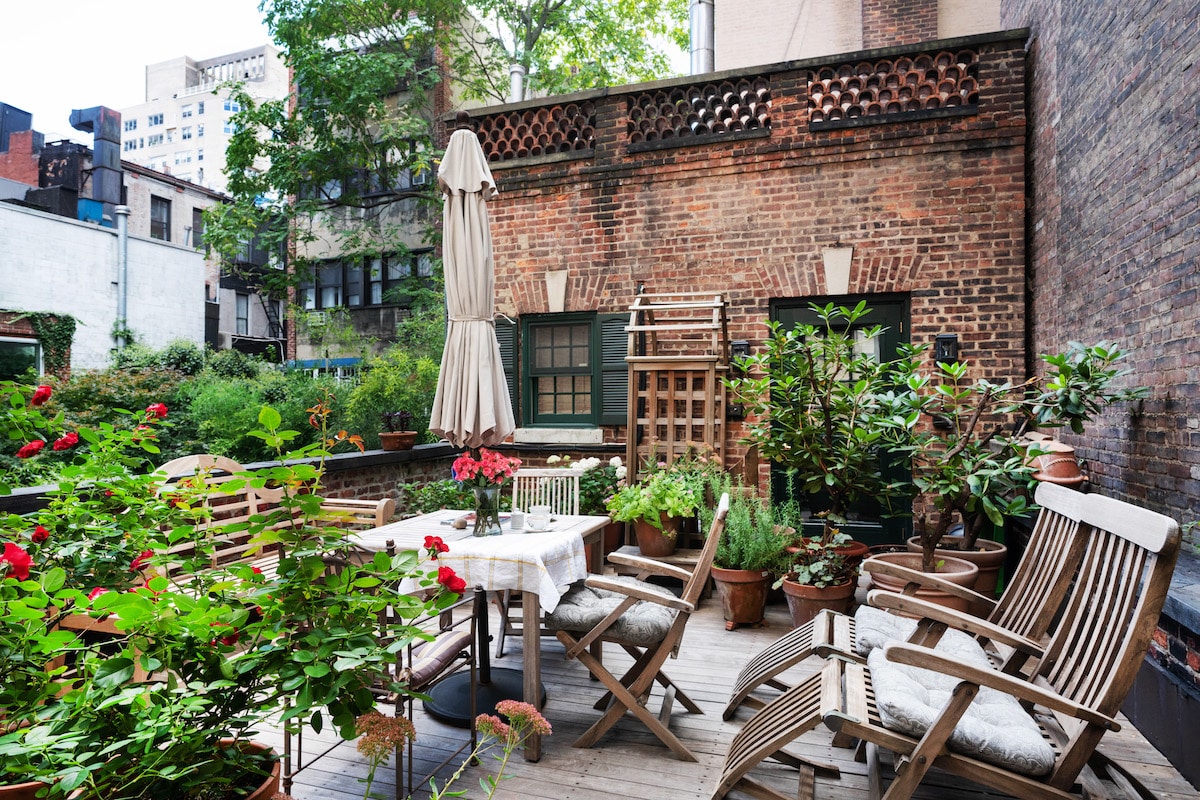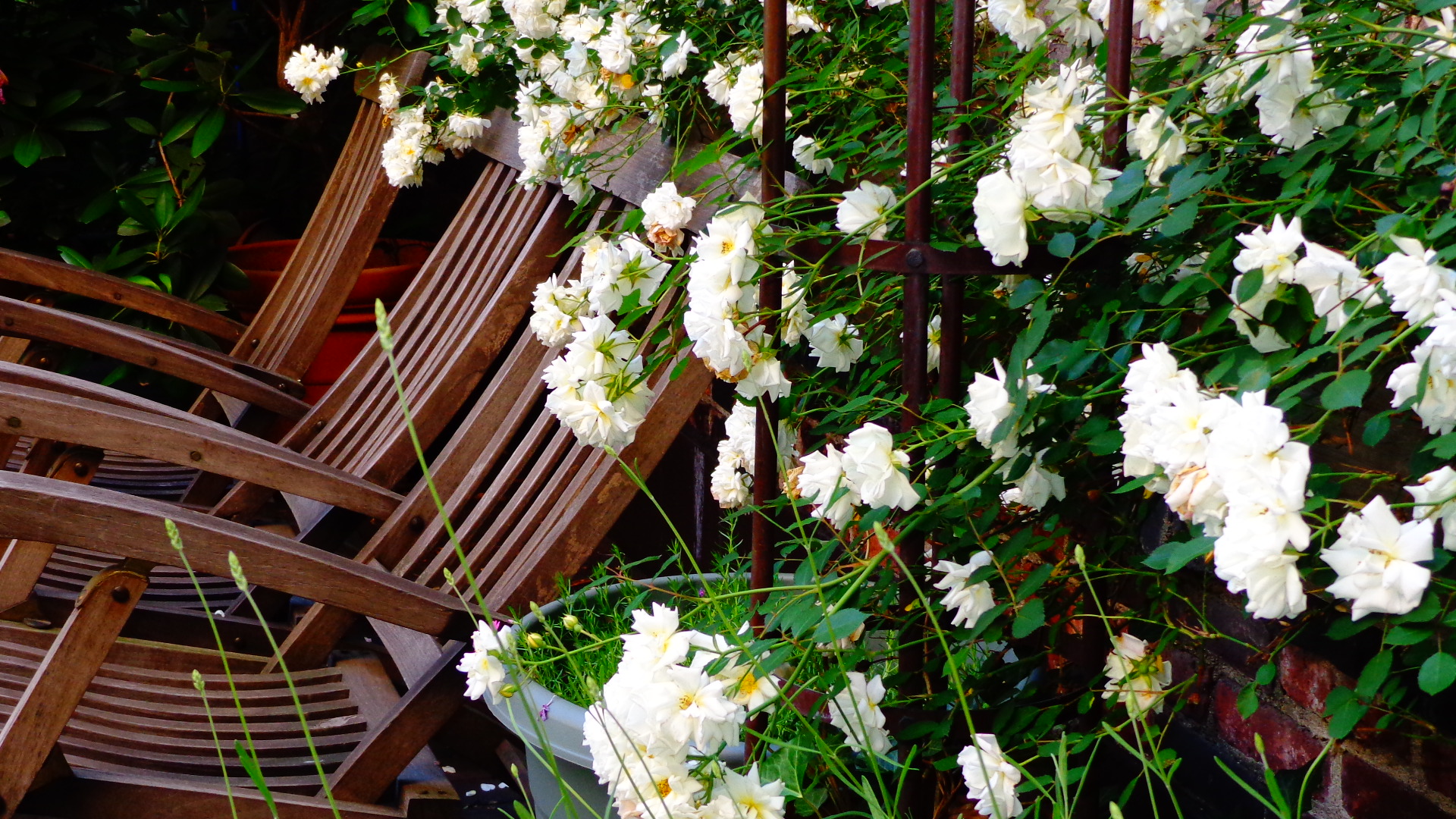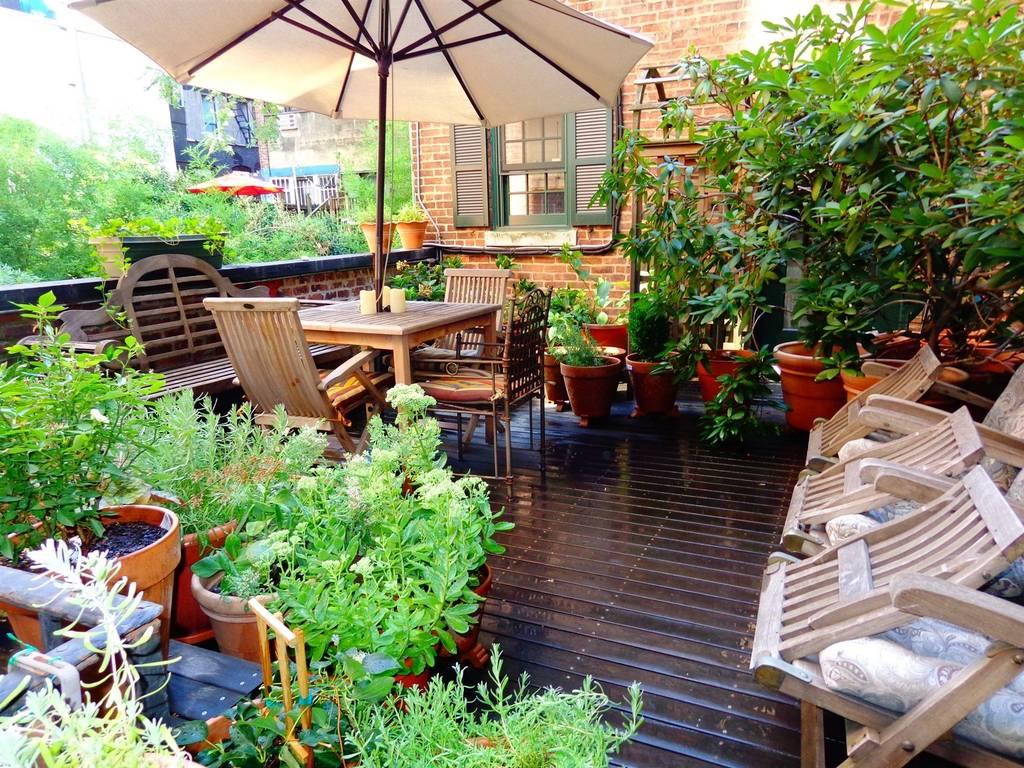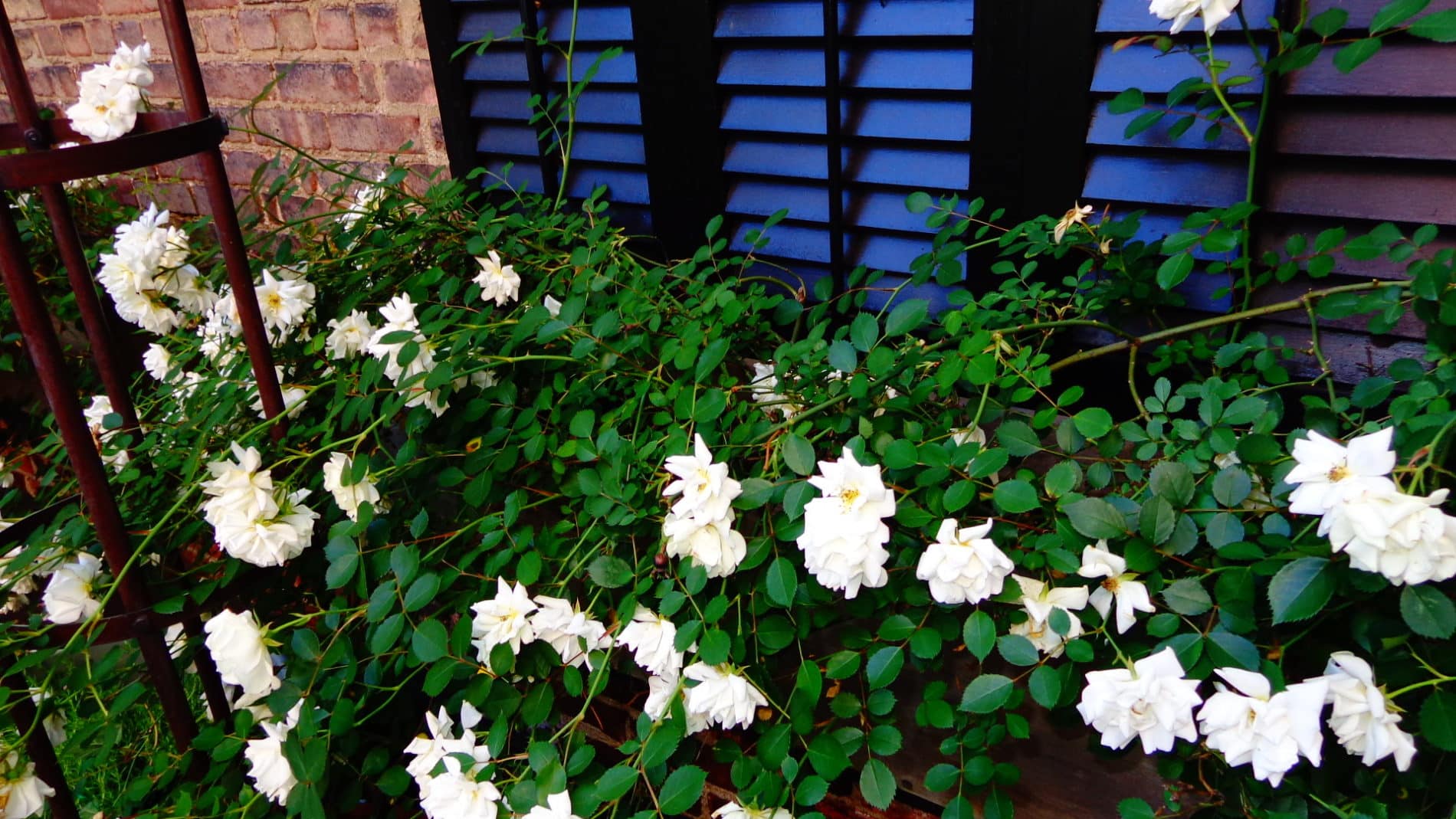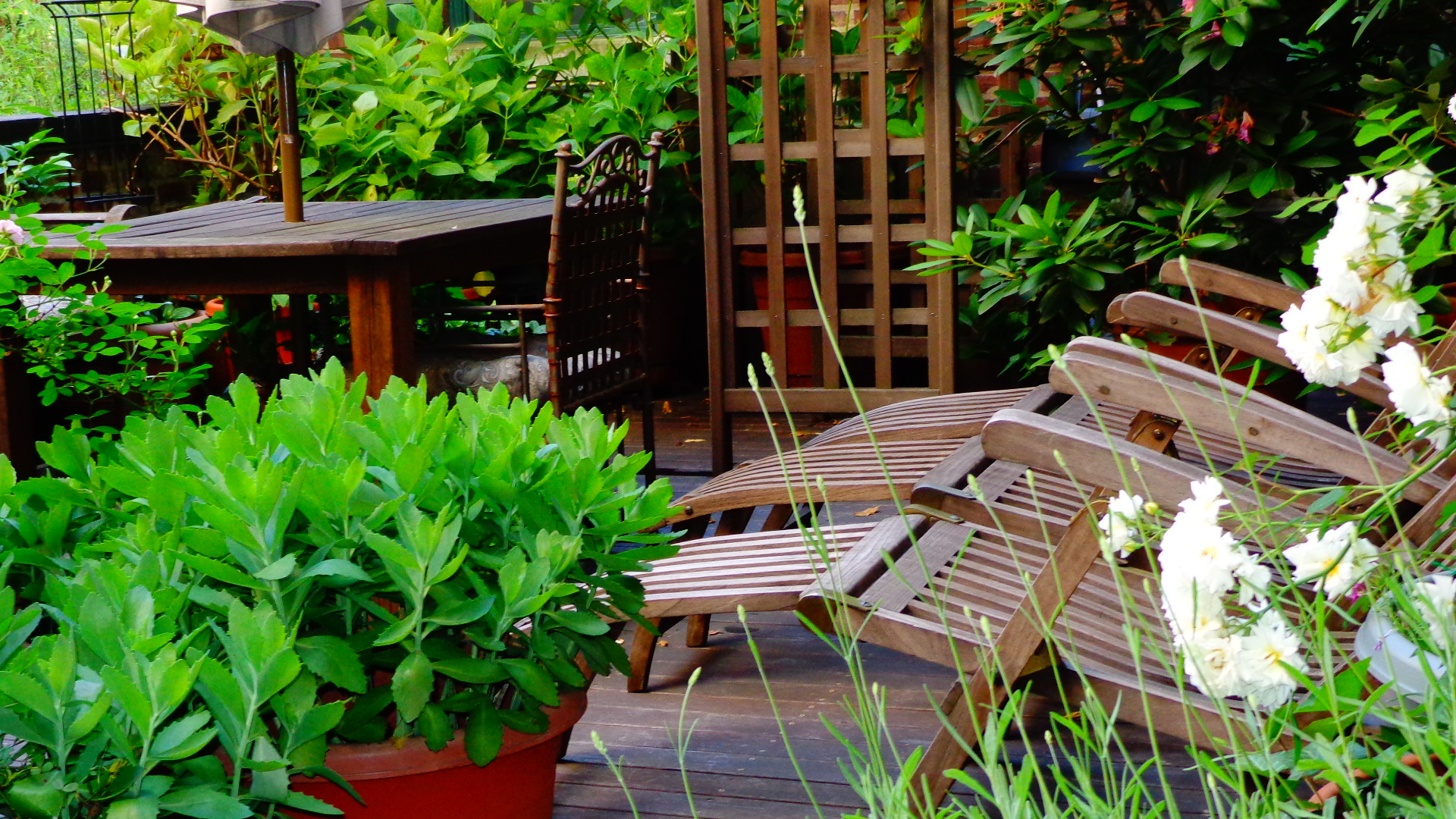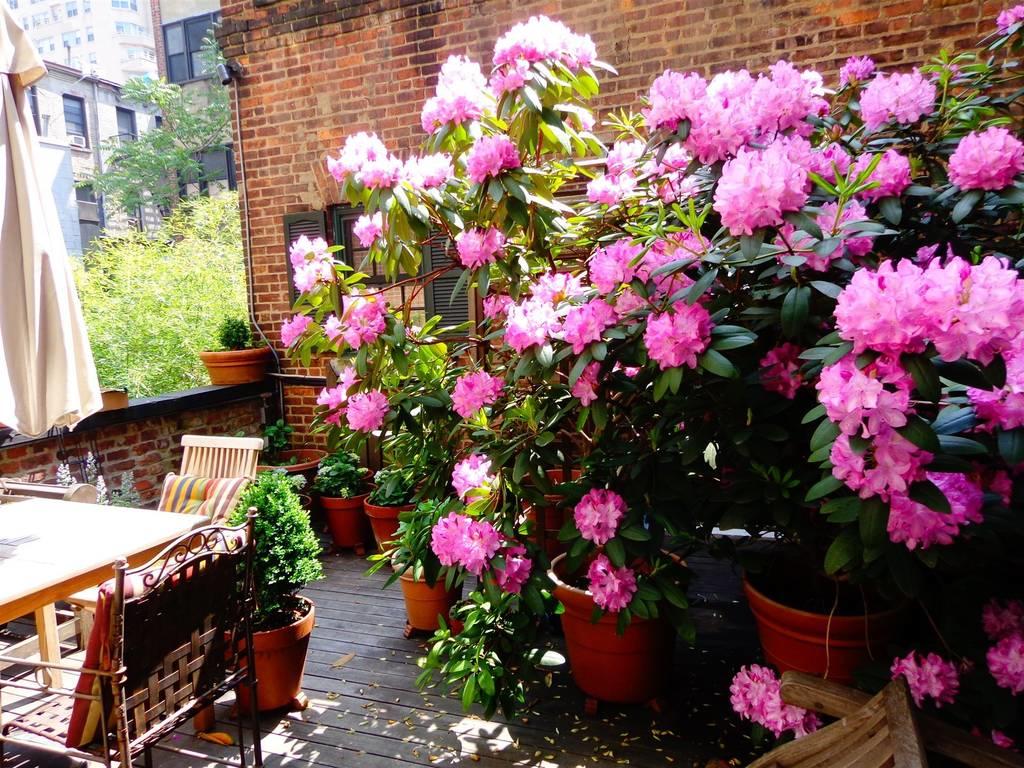 Terrace with square teak table, large umbrella and plants
Terrace with wood decking. Teak chairs, large umbrella and plantings.
Terrace with teak table, chairs, large umbrella and lounge chairs.
Teak Outdoor Benches and White Rose Blossoms
Picture of white flowers.
Picture of white flowers.
Neighboring Gardens with Bamboo and Trellises
Terrace with teak table, chairs, large umbrella and lounge chairs.
Picture of white flowers.
Terrace with Ipe wood floor boards, teak table and chairs. Many shrubs including a large Rhodedendrum with large pink blossoms.