What our Guests are Saying
"This townhouse, in one of New York's historic areas is a beautiful architectural structure both outside and inside located within easy access to the best this city has to offer. The owners, who are incredibly accommodating and charming, have preserved this property wonderfully and furnished it with lovely pieces throughout – I stayed in the Parlor Suite and fell in love with the space. I so highly recommend!"
–Guest Stayed Aug-December 2021
"Perfect stay in the Parlor Suite. The location is incredible – safe neighborhood, quick walk to Central Park/museums/restaurants/grocery stores/shopping, and close to two subway stations with different lines (63/Lexington and 59/Lexington). Lia and family were very kind, communicative, and helpful. The house was exactly suited for my needs, and I loved my stay there. Also, it couldn't be decorated any cuter – the house/rooms are adorable. So happy to have found this place. Would highly recommend for extended stays in NYC! (Also, eat at the Tavern across the street before you leave – some of the best food I had while in NYC.)"
-Guest Stayed Summer 2021
"Great location and wonderful hosts. Easy walk to Central Park, the MoMA and a bunch of great restaurants. Highly recommended. Thanks!"
–Guest Stayed in the Lexington Suite Summer 2021
Amazing place – great location and thoughtful hosts. Will definitely come back again and again. 5 stars across the board!
-Guest Stayed in the Madison Suite Dec-January 2021
"Lia was one of the best hosts I have ever stayed with. She was always quick to respond if I had any questions and provided a great list of surrounding restaurants and amenities in the charming area of 62nd street. She and her team were the warmest and most hospitable people. They always cleaned the apartment to perfection and made me feel at home. I stayed in the Madison Suite, a quaint and stylish apartment that felt like a home away from home. It reminded me of a set of a Meg Ryan movie. Everything had personality and charm to it. In addition, it was always the best coming back from a long and stressful day at work to this cozy and quiet place where I could relax in the warmly lit library living area area drinking my cup of hot chocolate. I strongly recommend staying here. The location is convenient and close to the best spots in Manhattan. You just can't go wrong. Lia and her team are the nicest and most generous people. I created the best memories staying there and look forward to visiting again in the future!"
-Guest Stayed November 2019
"I wholeheartedly enjoyed my entire month long stay at Lia's place. From the start, Lia & her husband welcomed me in at check-in with a great personal touch and I had the pleasure of getting to know them before unpacking and beginning my stay. The Garden View Apartment was just as depicted in the pictures and actually larger than I expected. Very comfortable bed and many nice furniture touches that made me feel as if I were at a luxury hotel. Each week like clockwork, the apartment was cleaned with great attention to detail which was also nice to see. Regarding the location, it doesn't get much better. Near a good deal of public transportation, great shopping in the area with Bloomingdale's/Saks Off 5th/Banana Republic, and great restaurants from classic NY pizza to Asian cuisine to traditional steakhouses. I wish I could have stayed longer but I found my permanent housing. I would recommend staying here to anyone and it was a pleasure to have met Lia and the staff."
–Guest Stayed in the Garden Room December 2019
"Couldn't have been better. The room was clean and beautiful and equipped with everything I needed (plus lots of lovely touches). Lia was very accommodating and the location was great- both quiet and convenient. Would 100% recommend!"
-Guest Stayed February 2020
"NYC's best kept secret, it was such a pleasure to spend two months at Lia's beautiful home. The Garden Room has a gorgeous outlook and access to a stunning garden terrace. The whole building and rooms are kept in pristine condition, and the location is exceptional. Amazing communication at all times. 5* Super Hosts and highly recommended"
–Guest Stayed November 2019
"Located in the prestigious Upper East Side, close to Central Park and many amenities Lia's house is an amazing find. What set's this property apart though, is the quality of the accommodation, pristine rooms decorated with love and care. Lia and her husband have created an oasis of serenity in one of the world's busiest cities. The level of communication and welcome is exceptional. It truly felt like a home away from home. Many congrats and thanks for being Super Hosts. Can't recommend enough!"
-Guest Stayed October 2019
"Such a wonderful place to call home for a month. Lia and Daniel are incredibly thoughtful and have put in so much effort to make a charming and cozy atmosphere. The garden was a lovely place to work and read. And the space is quiet, so peaceful for a NYC apartment (I lived in the city for 12 years prior to this so am familiar with how noisy apartment living can be)! There are so many tasty restaurants in the area that you don't miss not having a kitchen, the mini fridge is perfect for snacks, leftovers, and beverages between meals. Highly recommend and look forward to being in touch with Lia and Daniel in the future."
-Guest stayed October 2019
'A bit of the 19th century in the 21st! Lia and her husband have lovingly restored this 19th century brownstone with all the furnishings and fixtures from the period. It was a a lot of fun to experience living here for that reason. The location is perfect by the way. You can easily get to the westside on the new 2nd Ave subway and go up and down the east side catching the local in front of Bloomingdales. You are just a few blocks from Central Park and this well established residential neighborhood has plenty of food and shopping options. The wifi is a standout by the way. Incredibly fast. Over 200 mbps most of the time. Lia and her husband are lovely hosts and even brought me cheesecake (delicious) and were very easy to communicate with as well as being proactive when issues came up. Thank you for a fun 30 days in NYC!"
–Guest Stayed August 2019
"1871 House is perfect in every way… location, amenities, and furnishings. We were particularly impressed with the instant responsiveness and hospitality of the owners. We highly recommend it. It represents quintessential New York City at its finest. We look forward to repeat stays. It is an Upper East Side oasis."
-Guest stayed August 2019
"Lia's apartment is a little gem in New York City. To have a wonderfully big room with garden terrace in a hotspot of NY is a real treat. The location is excellent, perfect for the subway and Central Park, plus walkable everywhere. Lia was incredibly thorough and thoughtful and the room was perfect for a single person with the occasional guest. I would have happily stayed longer!"
-Guest Stayed June 2019
"I really enjoyed Lia's quaint apartment – the house was built in 1871, and there's very few chances in life for you to experience a place like this! Lia was extremely communicative and was able to answer any and all our questions. At the same time, she gave us tips on the local sights and where to eat. We were between this location and picking a corporate apartment, and this was definitely the far superior choice."
-Guest stayed August 2018
A hidden gem!
"The owners of 1871 House have created such a lovely respite away from the city and the cares of the world! I have previously stayed here and just stayed for nearly a month and felt so lucky that this haven could serve as my home base in New York. It is like staying in someone's beautiful country home and you feel like a true guest! The owners and staff were incredibly generous with advice and tips and recommendations of every kind! I look forward to another visit and highly recommend this special place!"
–Guest stayed February 2017, traveled solo
Can't wait to go back!
"A stay at 1871 House is like staying at your rich friend's gorgeous house and soaking up every minute because you know you can't stay forever. The 1871 House is in the best neighborhood in the city, the Upper East Side, a couple of blocks from Central Park. It's on a beautiful and quiet tree-lined street and surrounded by beautiful multi-million dollar townhouses. It's also a great neighborhood to explore. I can't wait to go back!"
–Guest stayed January 2017, traveled on business
Favorite "hotel" ever. Like stepping back in time!
"The 1871 House is my favorite "hotel" in New York. I put hotel in quotes because it's not a hotel, really. It's a cozy B&B and it feels like you're staying in an elegant 19th century townhouse. And that's because you are! At times I like a big modern hotel, but this is 180-degrees opposite from that and a wonderful alternative. It has an authentic "classic New York" feel. It's comfortable, spacious and furnished with beautiful antiques and high quality linens. The ceilings are super high and the beautiful old architectural details are still there. It's just such a wonderful find!"
-Guest stayed January 2017, traveled on business
A Cozy & Quaint Stay
"Staying here is a different experience than staying in a hotel. I like both experiences, but I probably enjoy the quaintness of staying here a little more than a big hotel. It just depends on what you're wanting. When we came home in the evenings, we felt we were in a cozy little apartment, and we all slept well. And the cost to stay here is very reasonable, which is another plus. I highly recommend the 1871 House – after two times staying here, I do plan to be back!"
-Karen R., Stayed December 2016, traveled with family
Perfect for my Business trip
"I had business in my hometown – Manhattan- and didn't want to stay in a hotel atmosphere. This beautiful, old brownstone was perfect! Charming, well appointed and decorated, in a fantastic neighborhood, within walking distance to almost everything, and it felt like a home. I opted for a room with a kitchenette, too. I was lucky enough to be there when Snowstorm Jonas hit, so I was snug inside, watching the snow fall, and the street outside turn white. Everyone was so very nice, friendly and helpful, too. I will be back- and I can't wait!"
-Guest stayed May 2016, traveled solo
We were totally blown away!
"This is definitely the place to stay when you are looking to experience the "New York Life" We were totally blown away immediately upon entering the building and then again upon entering our room (the Rear Library). We felt like it was the perfect way to begin and end our long days of touring while feeling connected to the city in a way that you can't get when you stay in a big boxy hotel. Everything was in walking distance, Central park is just 2 blocks away and the subway to go anywhere is just around the corner. We couldn't have asked for a better place to stay and will definitely be booking there in the future when we return."
-Guest from Edmonton, Canada, Stayed June 2015, traveled with family
I'll never stay anywhere else again!
"We visit New York at least once a year, staying in different locations each time, until next time, that is. Now that we've found 1871 House, we will never stay elsewhere. I cannot express how very delighted we were/are with this find. It will take some of the stress out of planning visits to New York since I'll never again ask, "Where should we stay?" Thank you, owners & staff, we appreciate your lovely home and look forward to returning."
-Guest from Houston, TX, stayed October 2015
Many kindnesses from Owners & Staff
"The many kindnesses of the owners and their office and housekeeping staff left a lasting impression on me. Throughout my entire stay each of them treated me with genuine caring and attentiveness and respected my privacy. Knowing that I needed to spend long hours in front of a computer, they made efforts to ensure that I was set up ergonomically. At Christmas, they provided me with a small tree for my room. And, it was always reassuring that if I required assistance – day or night – they were only a phone call away."
-Guest from Ottawa, Canada, Stayed November 2014 on business
Beautifully decorated, quiet, comfortable room
"The room was beautifully decorated with antique furniture, and it was a comfortable, clean, quiet, homey, large, quaint hotel. I would stay there again if we should visit New York and I would highly recommend it. The owners were so hospitable, and willing to help if you needed it, but they also kept to themselves. No need for a Taxi! It is in walking distance to Central Park, subway system, shopping, great restaurants and cafes, and little grocery stores. We stayed 5 days and they were a most enjoyable 5 days in this small but quaint hotel. Loved the history around it!"
-Guest stayed September 2014, traveled as a couple
This brownstone boutique hotel is a super find!
"I have had the pleasure to stay at this brownstone boutique hotel on many occasions over the last several years. It is a special experience to stay in a well appointed suite located in the heart of the East Side. The street is quiet in contrast to nearby Park and Lexington Avenues. Super restaurants and shopping within walking distance as well as the subway system. The staff has been extremely professional and at the same time personable. I would recommend this experience for those looking for a non-traditional New York City hotel. A super find!"
-Stayed November 2014
Beauty, Peacefulness & Elegance
"We had a spectacular visit to New York. We did it all. Saw too much, ate too much and walked too much. NOTHING on earth was nicer than "coming home" to our suite at the 1871 House and feeling pampered in its' beauty, peacefulness and elegance."
-Guest from Boston, Massachusetts, stayed August 2014
Another exceptional experience at 1871 House
"I have just returned from another amazing stay at 1871 House. I continue to be impressed with every aspect of my experience here – from the location to the rooms to the staff and everything in between. This trip was another exceptional experience that made me feel like I had my own personal place on the Upper East Side. This place really feels like a home-away-from-home for me. With frequent trips to NYC, it's nice to have a special place that provides a very different city experience. I highly, highly, highly recommend this place to anyone looking for something very unique and special in the Big Apple."
-Guest stayed in June 2014, traveled on business
My own little Upper East Side Apartment!
"Just returned from a 4 night stay in the Madison Suite at 1871 House. It was such a treat to have what felt like our own little Upper East Side apartment. The decor and furnishings were quaint, the space was roomy, and the location was perfect, tucked away from the hustle/bustle but close to everything: several corner groceries, nice restaurants and wonderful shopping. I would definitely like to stay at 1871 House again."
-Stayed May 2014, traveled with friends
My all-time favorite place in NYC
"As a person who travels for business quite often, it is rare that I find a place worthy of a Trip Advisor review. And yet I continue to share my thoughts on my all-time favorite place in NYC – 1871 House. It is easy to tire of the same old business hotels, so it was refreshing when I stumbled on this quaint upper East Side property. I have taken my family here twice on vacation, and I continue to stay here on business when they have room. It is the perfect way to experience NYC.
Are the rooms made for business travelers? Not really. Does this cater to a business traveler at all? Not really. And that is the beauty and charm of this great place. Rather than going back to a hotel, I literally feel like I am arriving "home" when I get to 62nd and Lex. The rooms are quaint and appropriate – they have everything one would need for the evening. The entire property has the charm you would expect. Whereas others have commented on the water pressure or some other minor inconvenience, I find all of the nuances of 1871 House to be what makes it so special. I have never had an issue that wasn't resolved immediately. For instance, on this last trip, there was some water damage in one of the rooms in the top floor suite that I was staying in. This was due to the heavy storms that had been in NYC just a few days before. As I arrived, the staff prepared me for this and told me that I might want to choose the smaller part of the suite to stay in. They decided NOT to work on the damage while I was staying there, postponing the repairs until I left. It was appropriate – and part of the challenge of working with an old NY building. Part of the charm and appropriately handled.
Two special elements of the experience stand out for me:
(1) The location: You absolutely can't beat the upper East Side location of 62nd Street between Park and Lex. I can walk just a few blocks and be in Central Park for a morning jog. There are amazing neighborhood restaurants and shops just outside the door. And big department stores and power shopping just down the street. You can walk anywhere and get almost anything you might want. When you stay here, you feel like you live here. That's the way to experience a city.
(2) The staff: The staff at 1871 House is not your typical B&B staff – and they acknowledge such. They are not there to engage you in conversation or be your "hosts" in the city. They are there to make sure everything goes well; otherwise, they are quiet and behind the scenes. And yet, it's one of the things I love about this place. They have taken VERY GOOD care of me. They remember that I have stayed there before. They know I arrive late and leave early. And most importantly, they accommodate my last minute requests for a room when they can. They show flexibility and loyalty, which is rare these days. I am grateful for the kind staff that work at 1871 House and how they have welcomed me into their home.
I have sent a number of friends to 1871 House – both business colleagues and personal friends. Bar none, their experiences have been outstanding. I can not more highly recommend this place to anyone looking to experience a different, more personal and intimate NYC. (Just hoping they don't get TOO booked up; I want to make sure they have room for me on my next trip!)"
– Stayed June 2013, traveled on business
Excellent location, cozy and comfy!
"My girlfriend and I really enjoyed our stay at the 1871 House. The staff, especially Jennifer, were very accommodating in terms of googling and printing off directions as well as recommending restaurants etc. We stayed in the Garden room. It was cozy yet very spacious. We were fortunate enough to use the terrace(weather was good) which provided an additional living space and a great place to enjoy our morning coffee. The Queen bed was very comfortable and the trundle bed was perfect for one as well. There was ample storage space for our clothes, two dressers and an armoire. A perfect table for writing and/or snacking. While the bathroom was definitely unique and small it was good enough for showering. We had plenty of hot water at all times contrary to reviews I had read previous to our stay. The additional sink in the room was a welcome addition for teeth brushing and washing before bed.
The neighborhood was very nice. Minutes away from Park Ave, Central Park and a short subway ride away from the hustle and bustle of Times Square. The little fridge was perfect for housing our juice etc for breakfast and the kettle providing our morning hot drinks. I would definitely recommend this place to anyone who wants to stay at a place with cozy comfy place with character vs a hotel room.
Room Tip: Garden room perfect in spring time, terrace is private and provides additional space.
Home from home and so much more
Wonderful stay in the Madison suite. Perfect accommodation and location for us. Yes the house plenty of stairs as others say, but so does the subway and we More than coped. The house is charming and we can't praise the service provided by the lovely staff too highly. We didn't meet the owners but Jennifer and Anita were delightfully helpful. The rooms are comfortable, clean, tastefully decorated and well equipped. The per-ordered hamper was nice and the advice re Sprinkles cup cakes on Lexington for birthday cake fare was perfect. We had 5 jam packed days and the location close to the park for the zoo and skating and easy subway access downtown was great. Hope to stay again and will tell our friends. Thanks again."
Home Away From Home – Only Better!
"We stayed in the Madison Suite during a period in which we had snow, rain, and 50-degree weather. During it all, 1871 House provided the perfect 'home base' for sightseeing, and a wonderful refuge for tired feet (and wallets) at the end of the day. The beds were all comfortable, with impeccable linens and plump pillows. Being able to have a fire while it snowed outside was a huge bonus of which we were happy to take advantage! Yes, the stairs are many, and yes, it's an old walk-up building – but with that comes undeniable charm, warmth, and intimacy, the likes of which you don't get in the large hotels, or in any place in NYC, especially at this price point. This place is a sure bet, and I'll look no further for a place to stay next time I travel to New York. I could easily have moved in permanently – it's that great. (P.S. Hot water was plentiful every time I sought it).
We will never stay anywhere else:)"
"My husband and I are repeat visitors to 1871 House. We have traveled to NYC over 12 times since we fell in love with the city and we have stayed in many areas of Manhattan, but we can honestly say we will never stay anywhere else.
The house itself is beautiful, well appointed, and serene, lacking in nothing to help create a wonderful memory. We have stayed in three different rooms and we are hard pressed to select our favorite, as all have been wonderful. The staff is amazing creating a fine balance between respecting your privacy, yet letting you know they are always available to assist you with your questions or needs. My last trip I had to make alone and I will never be able to express how welcome, safe and cared for they made me feel. At the end of the day, returning to this lovely house, entering a room that draws you in and lures you to relax in my opinion is a true hidden gem.
The area of location is in our opinion perfect. You have access to all things NYC, without feeling like a pinball when you walk down the streets, if you know what I mean. We even have found so many of the restaurants and local merchants to have a neighborhood feel to their establishment as they are more welcoming, communicative and overall engaging. The area is very safe and each night we often stroll to Central Park to sit near the fountains and enjoy the lights and scenes of the city.
I promise you will not be disappointed and you will want to return over and over again.
Room Tip: We have stayed in the Mission Studio, Parlor and Rear Library. And we love them all."
My Future Home from Home in New York City!
"A friend from England and I stayed here in October of 2011 and had an absolutely fabulous time. It is the perfect place for a visit to New York City. I used to stay at the Surrey, but now prefer the 1871 House. We had the Garden Room and Terrace and loved it. We also liked having an electric kettle and other household amenities, as well as a refrigerator, in our room, so we were able to enjoy breakfast and afternoon tea there, whenever we chose. But, we also enjoyed the neighborhood ethnic restaurants of an evening, just round the corner on Lexington.
We took advantage of having Central Park close by for a visit to the Zoo and our daily walks. We also loved the proximity to the Frick Collection and the Metropolitan Museum of Art, again all within walking distance.
Although we did not meet the owners, the staff were very helpful. I have no desire to stay anywhere else on my trips to New York City."
Another great stay
"Just spent another weekend at the 1871 House and what a treat. Like last time everything was perfect. The room was spacious and comfortable and full of charm and character. Antiques, high ceilings, big windows, comfy bed. And it's in one of the best and most expensive residential neighborhoods in the city, close to everything, and the best part is that it's two blocks to Central Park. There is nothing 'modern' or 'generic' about this B&B yet it's clean and fresh and elegant in a 19th century town house sort of way. . There's a little kitchenette (or some rooms have kitchens I think) with fridge and storage to put food in. Staff is friendly but other than a brief friendly encounter we never saw another person. That's a plus 🙂 So it's a rare treat for us but worth it."
Superb location, excellent room, great value
"We stayed at the 1871 as an experimental alternative to the major hotel chain properties that we usually book when visiting NYC and we won't go back to hotel life now.
For orientation, the 1871 is a 3 minute walk from Bloomingdales, 5 minutes walk from the bottom of Central Park and in an elegant, classy neighborhood. 1871 is on a side street about 100 yards from the junction with Lex Av and so is a quiet location. We booked the Mission Studio which is on the lower ground floor of the property. This comprised a large bedroom, seating area, corridor with wardrobes, kitchenette, shower room and wc. The whole apartment was much much larger than the executive Hilton/Westin/Sheraton rooms that most people use in Manhattan and the ambience was far more homely and classy. The entire floor area is marble and the apartment looked to be freshly decorated, particularly the shower room and kitchen which were spotless. We paid around £210/night which I thought was excellent value for money. Remember – the 1871 appears to be a hotel but is really a townhouse converted into apartment accommodation so don't expect hotel services – this is pretty much self-catering. But I'd gladly swap a nightly turn-down service for extra floorspace and the character of the 1871. Other than that I would heartily recommend the 1871 to anyone traveling to NYC and staying a few days for pleasure or business."
JJB from Kent, UK.
All we needed in lovely room and excellent location
"We loved the room from the start in this tastefully renovated brown stone house. We were in The Parlour Suite on the first floor, a spacious room with elegant high ceilings and 3 big windows looking out onto a road just busy enough to be interesting but not noisy. Upper East side is a wonderful location managing to create a city village atmosphere whilst in easy reach of the many sites on offer in New York. There were cafes and restaurants available on our doorstep and Le Pain Quotidian became our favourite spot for breakfast."– HM from UK
Returned again and thoroughly enjoyed our stay
"Once again, we traveled from Boston to NYC and stayed at the 1871 House. I forgot how much I love NYC and enjoy this amazing B&B! We met the inn owner, who was warm, friendly and helpful! She gave us a great suggestion for dinner – only a few blocks away as well as directions to my favorite bagel shop! We never needed to take a cab, bus or subway, since the location on the upper east side/mid town is amazing! We walked to the Metropolitan Museum of Art, up and down Madison Avenue, to Saks, Barney's, MOMA, and Rockefeller Plaza. The location is AMAZING!
I absolutely love staying in the beautiful brownstone! The high ceilings, art, rugs and beautiful antiques are tasteful and luxurious. And, the room is spotless. I have very bad allergies and always suffer when I stay in rooms that are not adequately clean and ventilated. We also enjoyed the view of the back garden – which was a pleasant surprise!
Our room was quiet, clean, spacious and beautiful! I can't wait to return for my holiday shopping!"
– LB from Boston
Great find!
"We had a wonderful stay at this awesome B&B! Our room, the Parlor Suite, was larger than it appeared in photos and very very comfortable. We loved the large windows that faced beautiful 62nd Street and the super high ceilings that reminded me of the book "Madeleine." Great antiques decorated the room and the bed was better than our own. For once, the covers on the bed were thick and hearty and enough. And a real cotton quilt and comforter. The neighborhood is one of the best in town – you are surrounding by elegant 19th historic townhouses and just a quick and beautiful walk to Central Park and 5th Avenue. We loved out stay here – it was worth the money and will go back. I did not get to see other rooms due only to our time constraints but loved the Parlor Suite. There was some street noise at night but we liked that as it was the cacophony of 'city noise'. But if it would bother you, book a room in back of the house. It was also very private. No breakfast and so you did not have to make small talk with anyone.
A glimpse of the gilded age
"I'd pored over the photos on the website and debated whether to stay in the Mission suite but finally plumped for the Parlor. On my visit to New York the previous May I had passed by the premises whilst checking out the area. As I stood sheltering from the rain, the front door opened and a departing guest was being helped to a waiting taxi. I approached and asked if it might be possible to come inside as I had booked a room for February. The duty manager (Leon) immediately placed me and said, 'oh yes, you've chosen the Parlor suite haven't you? It's vacant at the moment, would you like to come in and see it?'
This act of thoughtful efficiency, to me, sums up in a sentence the attitude of 1871 House and their staff . While never being intrusive, their door was always ajar and they were always welcoming. They shared my concern when a package I was expecting failed to arrive in the post and they were as happy as I was when it finally turned up!
The room was exactly as portrayed on the website, a wonderful departure from the sterility of most modern hotels. The walls were covered with beautiful antique paintings and the furniture too was delightfully chosen to blend in. Part of the charm was down to the fact that, although some modern amenities were provided (TV, DVD Player, radio alarm etc.), one still got the feel that one was in a late 19th Century room where floor boards squeaked, pipes banged and doors sometimes didn't quite fit. To 'fix' all these quirks would definitely be a retrograde step in my opinion.
I was fortunate enough to be able to view a couple of the other suites with a future stay in mind and can confirm that they all exude a similar authenticity.
The location has to be one of the best in Manhattan. Two subway stations are within a 5 minute walk as is Bloomingdales. Central Park is no more than 10 minutes away and the neighbourhood is peppered with restaurants from local diners, through French bistros to upmarket eateries. Once again, the knowledgeable staff will give you good advice on where to go depending on your tastes.
I was never aware of any noise from any of the other guests (save the odd footstep outside my door) and the bed was an absolute delight – firm and comfortable. I had worried about it being cold in the room and possibly needing to light a fire but I had to kick off the quilt and sleep beneath a sheet and single blanket every night I was there.
This isn't a budget hotel but, in life, you get what you pay for and I will gladly recommend it to friends and look to stay there again on my inevitable return to my favourite city."
-Guest from Maidetone, UK
1871 House Reminds me of the Movie "Breakfast At Tiffany's
If you've seen the movie "Breakfast At Tiffany's," you'll recall Holly Golightly (Audrey Hepburn) lived in a NYC walkup apartment converted from a city townhouse. Whenever I think of 1871 House, I'm reminded of the winding staircase in the movie with apartments on every floor. At one time in its storied past, 1871 House served the same purpose, except now its former apartments are elegant rooms at a quiet and cozy inn. It's very romantic for couples and quiet and secure for singles and families.In one of the nicer neighborhoods in the city, the 1871 House is convenient to all sorts of amenities, the bus & subway, shops & businesses, even Bloomingdale's, are all are a short walk away. Within one block are several restaurants and grocery stores, some of which are open 24 hours. For the best bagels, try The Bread Factory in the same block on Lexington. Traveling alone, I always felt safe, even when out walking at night.For me, staying at 1871 House is SO much better than a city hotel, no matter how upscale. You feel like you live in the city, not just passing through. The prices are competitive with 3 and 4 star hotels in NYC. I stayed at one of those "posh" hotels on Central Park South. The room was nice but so small I could barely turn around. I also stayed at a nationwide chain hotel in NYC and was unpleasantly surprised at how poorly kept the facilities were. From what I've seen in "Sex and the City," the room decor at the 1871 House rivals those in the Stanhope Fifth Avenue. True, there's no room service at the 1871 House, but then, if the city loses power, you don't have to climb 22 stories to get to your room!The innkeepers are friendly & helpful without being intrusive. I can't imagine staying anywhere else when I visit New York. For a "Home away from Home" experience, or, if your home's like mine, a MUCH NICER Home away from Home, visit the 1871 House and stay a while!"
– A guest from Alexandria, Virginia, USA
Awards and Recognition
AUGUST 17, 2022: theworldandthensome.com – 12 BEAUTIFUL UPPER EAST SIDE HOTELS IN NYC – THAT YOU'LL LOVE!
"If you're looking for the best upper east side hotels for your next trip to NYC, we know this list is going to inspire you! There are some gorgeous hotels on the upper east side, so it's no wonder this neighborhood is one of the most desirable in Manhattan.
Whilst the Upper East Side might not be the most 'touristy' neighborhood in NYC, it's undoubtedly one of the most beautiful. The Upper East Side hotels on this list ooze style and sophistication, and we know you'll love them. The upper east side is a really wonderful neighborhood to stop in, and these are some of the best hotels on the upper east side to make the most of your trip!
So, let's get into our list of beautiful Upper East Side hotels! …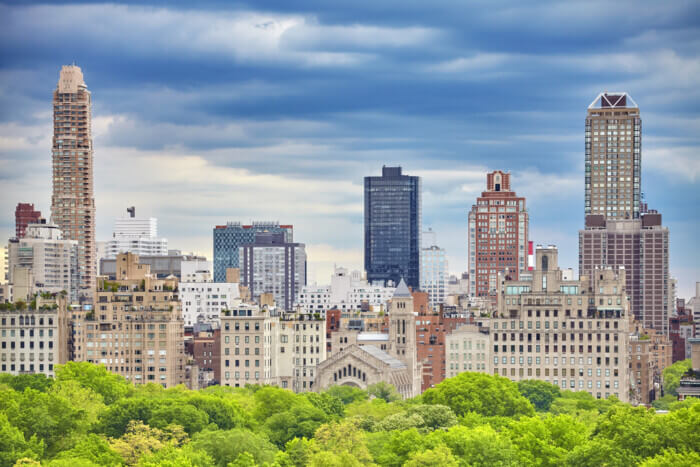 Next on our list of upper east side hotels, it's the 1871 House. This is something a little different, but it's such a special and unique upper east side hotel, that we simply had to include it!
This amazing upper east side townhouse is akin to a boutique hotel or B&B, and it's filled to the brim with antiques, decor, and amazing furnishings.
If you're looking for really unique upper east side hotels, then this place might be what you're after. There are high ceilings, apartments and suites, and stunning architectural details that will have anyone swooning!
Look out for the carved marble fireplaces and four-poster beds, we were wowed!
This is a seriously beautiful choice if you're looking for upper east side hotels with history."
1871 House was granted the Hotels Combined Recognition of Excellence award for 2017, 2018 and 2020 in the United States. This placed 1871 House among the top properties for Customer Satisfaction in the United Sates.
Time Out New York: The best bed-and-breakfasts in NYC
This spot's rooms, studios and apartments (take your pick!) have touches harking back to its namesake founding year—a spiral staircase, marble fireplaces and high ceilings. Its proximity to Museum Mile is a draw, as are its breakfast baskets of fruit, quiche lorraine, croissants and fresh-squeezed OJ. From $185/night
Refinery29: 9 Perfect Places To Escape The City — STAT
The 1871 House is located smack-dab in the middle of old New York on a quiet, tree-lined Upper East Side block. With close proximity to the Guggenheim, the Met, and of course, Central Park, this gorgeous brownstone is home to seven charming, English-style apartments outfitted with four-poster beds, Victorian furniture, and Oriental rugs. It's a home-away-from-home that will make you feel like you've landed at Holly Golightly's for the night.
goods, coffee, fresh fruit, salmon, cereal, and more for an additional charge ($39–$95), but there is no common area for travelers to share.
One for the Table: The 1871 House
Who says you can't go home again? I just did and am here to testify that though it was a bit strange, it was more than wonderful to return to the place I lived in 41 years ago. Planning my recent trip back east where I would be staying with family and two of my oldest and dearest girlfriends, I decided to start off my trip by staying in a hotel for a few nights. After checking the rates in our two favorite New York hotels, The Regency and The Surrey and catching my breath I decided to look at a few other options.
The Guardian: 10 of the Best B&Bs in New York
Just off Park Avenue on East 62nd Street is the 1871 House, a five-story townhouse with eight rooms that range from a studio with a kitchenette to a three-bedroom suite. The decor is a hodgepodge of French country, Victorian and Americana but the high ceilings, wood floors and working fireplaces are nice homey touches. The location is what really wins out here as you are close to the best of both the Upper East Side and midtown. If you want to explore further, the 59th Street station on Lexington is just three blocks away.
Herald-Times Homes – The 1871 House—a home away from home in bustling Manhattan
"One of the most satisfying tasks that Lia has undertaken for the past 20 years is decorating and furnishing the 1871 House's seven apartment-style units, which range from a studio with kitchenette to a three-bedroom suite. Every detail in each reflects her discerning taste and passion for creating serene, comfortable quarters that resemble a guest room in the home of a genteel relative. For example, the rear library suite, which overlooks the private terrace—covered with snow during our visit—has soaring windows, floor-to-ceiling bookcases lined with an eclectic range of reading material (biographies, art books, cook books, New York architecture and history, and fiction), an original marble fireplace (one of eight in the house) with a resplendent antique mirror over the mantle, original parquet wood flooring and sumptuous ecru cotton bedding with a lofty duvet. Just the tonic after a day exploring the bustling streets of Manhattan!"
Mentions:
Named for the year it was built, this historic home now serves as a quaint five-room inn. Each unit (including two multi-room suites) is like a mini apartment, with a kitchenette, private bath, queen beds, working fireplace and period-style furnishings. All the rooms are light-filled, with airy 12ft ceilings, while the suites, on the upper floors, can sleep up to three.
This is a great value place for the neighborhood. But note that this is a characterful, vintage structure: there is no elevator, the floors are a bit creaky, and in winter, heat is provided by steam radiators. Our independent authors have visited 1871 House and selected this as one of our recommended hotels in New York City.
Metropolis: Japan's No. 1 English Magazine: Alternative Stays in New York: A new breed of accommodation offers the best of hotels and apartments
Communal breakfasts and polite chit-chat with homeowners make the term "bed and breakfast" seem like the antithesis of autonomy. But northeast from my apartment, at 1871 House on East 62nd Street, autonomy is exactly what I find. Named for the year in which it was built, this elegant brownstone sits in the Upper East Side's Historic District and has been lovingly restored and decorated with bags of New England charm by its owners.
Strictly speaking, it's hard to classify what's on offer here. With just seven rooms, it could be called a small hotel. Yet a hotel wouldn't give out keys to the front door, equip each room with a small kitchen and working fireplace, or leave a stack of paperbacks on the nightstand. Similarly, to call it a guesthouse is misleading, since the owners and managers remain largely unseen (though not unreachable).
And as breakfast isn't included, the term "bed and breakfast" doesn't quite cut it here either. But, calling itself an "urban country inn," 1871 House does in fact loosely adopt the term B&B, while also distancing itself from the conventions of the category with the prefix "New York City-style." This is firstly because, as a common characteristic of B&Bs, the innkeepers live onsite (in this case in the two-story house in the garden). Secondly, it's because breakfast is available to guests-only it's in the manner that New Yorkers like to take it: eat-in or to-go at a whole host of friendly neighborhood places.
National Geographic Traveler
Manhattan's inns let you live like a local: From the tip of the Village to Harlem, bed-and-breakfasts offer travelers an experience of Manhattan that is intimate and offbeat-somehow close to the bone. Tucked into houses all over the island, usually on side streets away from the razzmatazz of the avenues, these small inns offer guests individual attention, quiet, and savvy access to their neighborhoods – and the shops, cafes, and local pleasures guidebooks sometimes overlook. Formal or funky loaded with charm, Manhattan B&Bs reflect the individual character of the neighborhood and the personality of the people who keep them. 1871 House: Every grand room and suite in this historic brownstone between Lexington and Park is impeccably dressed. The original period details-wood-and-ironwork, moldings, flawless plank floors-make a happy marriage with the well-selected romantic antiques, fixtures, and linens. The Owners take no shortcuts with amenities, low-tech and high. Wake under a stack of plump covers in an antique iron bed, then check your email with Wi-Fi. Gaze through the lace at the window and plan your day: shopping at Barneys? Dinner at JoJo? Ambling through galleries" You're only minutes away.
Make Business Travel a Pleasure by Staying at Bed and Breakfast (TransWorldNews)
You're on the road for business again; this time why not pretend you are also on a pleasurable adventure and choose a Bed and Breakfast instead of a business hotel? Not only will you avoid the anonymous rooms, noisy hallways, and pricey industrial continental breakfasts but you will actually feel you have had a pleasant little getaway. New York City: 1871 House B&B: On a tree-lined street on the fashionable Upper East Side, this classic Brownstone offers stylishly elegant accommodations. Old World charm is evident in the decorative ironwork covering the front door, ornate moldings around windows, high ceilings and floors, and ornate marble and wood fireplace mantelpieces. It was named one of the 100 best little hotels in New York City in 2003. A quote from a recent business traveler reveals the difference in staying in a little inn versus a business hotel, "I lived in New York for several years, and perhaps my favorite thing about the 1871 House was that it felt less like staying in a cold and touristy hotel, and more like I was using a friend's really fabulous apartment. I haven't felt so much like a New Yorker since I moved away."
Some business travelers prefer B&Bs:Business travelers generally don't consider bed-and-breakfasts for their lodging. Maybe they should, a new survey suggests. The following are the top picks for the best urban B&Bs for business travelers. The top-ranking inns offer expected amenities for business travelers plus "over-the-top" extras such as a great view, notable decor, a convenient location or exceptional value.
Top 10 urban B&Bs
1. Boston Yacht Haven, Boston; 2. Oge House Inn on the Riverwalk, San Antonio 3. Butler House on Grand, Des Moines; 4. Royal Elizabeth B&B, Tucson; 5. Union Street Inn, San Francisco 6. 1871 House, New York City; 7. Napoleon's Retreat, St. Louis; 8. DC Guest House, Washington 9. Chambered Nautilus, Seattle; 10. Flemish House of Chicago, Chicago
Frommers: Getting Cozy in 5 Big City Bed and Breakfasts
Admit it, when you think of a bed and breakfast, the imagery of some little hamlet nestled in the woods pops in your head. A pond maybe with some wee ducklings thrown in for show and a deer or two eating berries all Bambi like. You know, a bucolic hideaway shielded from the hustle and bustle of modern life, right? Well, if you are looking for that kind of living — sans the preciousness of Mother Nature — it might be time to check into the world of urban B&B's. Big city B&B's give you the best of both worlds: country charm and big city excitement. Many are located on residential streets smack dab in the middle of things, giving you the luxury of feeling like a local without having to pay the sky-high urban rents. Beyond being in the mix of things, B&B's are great for any type of traveler that enjoys those "homey" touches which can include: individually designed rooms, mouthwatering breakfasts and cozy fireplaces. Most B&B's do not offer perks such as bars, restaurants or gyms but what they do give you is better: a great deal of personal attention. Before you book your next metropolis-based vacation, take a peek at B&B's that can make the big, bad city feel like a home away from home. New York: New York City might seem like the last place where were you would find a multitude of B&B's, but the city once again proves to be a place where you can find anything. One of the city's top B&B's is 1871 House (tel. 212/756-8823 ; www.1871house.com), located just minutes away from the world's most famous grassy enclave, Central Park. With eight ornate rooms to choose from (some including full kitchens) you'll feel like you are in the midst of an older, long-gone New York.
Whatshamtoning.com: 1871 House – A NYC Style B&B
Have you ever had an itch for an adventure? An adventure like packing your things and leaving your hometown for a month or two and experience living somewhere else? Well if you do and if that "somewhere else" place is New York City, you are in luck. 1871 House offers attractively furnished apartment rentals for short term rentals and extended stays on the Upper East side of Manhattan, New York, New York.
Tucked among gorgeous townhouses and other historic buildings between Park and Lexington Avenues, the historic turn-of-the-century brownstone townhouse brings style and easy access to the busy city. The gated townhome offers stylish apartment-style accommodations a couple of blocks from Central Park, Madison Avenue shopping and Manhattan's finest restaurants and cafes. The generously sized apartment-suites are housed within a 5-story classic 1870's era brownstone on an inviting residential street.
The apartments feature amenities such as fully equipped kitchens, quality linens and a mix of antiques and quality reproduction furniture. 1871 House apartments look and feel like a sophisticated English bed and breakfast.
So elegant, so historic and so New York. I was so piqued with interest of who is behind this stunning brownstone townhouse that I decided not only to feature this B&B but also to ask the owner Lia a little bit about herself and how she got started with 1871 House.
In its current incarnation, the house offers 4 apartments for extended stays (30-day minimum). It attracts many interesting people from around the country and world who need to spend time in NY for on a limited temporary basis. Of course, the apartments continue to have the same design aesthetics – offering a combination of Ralph Lauren and Shabby Chic.
Have a look at the inside of 1871 House and gardens. I also included winter shots of 1871 House and Upper East Side neighborhood (just because NYC covered in snow is something worth seeing).
Bed & Breakfast Boutique Hotels in Manhattan:
While staying in Manhattan for several, you are definitely spoilt for choice when it comes to accommodation options.
There are many state-of-the-art bed and breakfast boutique hotels to choose from in Manhattan. Here are some of the recommended options…
1871 House: If you wish to stay close to Central Park and Carnegie Hall, the 1871 House will be your best option as it is conveniently located. Situated between Lexington and Park Avenues on East 62nd Street there are many museums you can easily access due to their proximity–such as the MET, the Whitney, MOMA and the Frick; while chic boutiques within walking distance include: Dior, Chanel, Prada, Burberry's, Hermes and Gucci among others.
For eating options, there are numerous restaurants and sidewalk cafes in the area.
The bedrooms which are decorated with candlesticks, baskets, country quilts and cachepots provide an atmosphere reminiscent of a country house.
Huffington Post: Hideaways Even New Yorkers Don't Know About
Built in 1871 and located on Gossip Girl, Sex & the City & Breakfast at Tiffany's home turf, this stately townhouse is just steps away from Park Avenue, Bloomingdale's and Serendipity 3, where celebrities like Beyoncé come for the Frrrozen Hot Chocolate. Some of the one-of-a-kind rooms and suites have kitchens, fireplaces and several bedrooms. Features include high ceilings, antique iron and brass beds, lace curtains and country quilts.
USA Today: Summer Getaways to New York.
New Yorkers consider Times Square the center of the world. But if out-of-towners are planning a summer getaway to Manhattan, they might want their accommodations to be in a more soothing part of the city. The 1871 House is an elegant bed and breakfast on the Upper East Side of Manhattan. Tucked into and quiet, tree-lined street, within walking distance of Madison Avenue shopping and Central Park, this restored five-story Victorian brownstone is a calm post from which to explore the excitement of Manhattan.
Washingtonian: Bed and Bargain in New York City
Hotels in New York can be expensive. But bed-and-breakfast inns are affordable—and just as nice. New York City has lots of small hotel rooms with big price tags. If you're looking for another place to stay, here are some little-known alternatives. The average hotel room in Manhattan is close to $300 a night. You may cut costs—but not quality—at a bed-and-breakfast or inn. These establishments—B&Bs include breakfast, while inns may or may not—usually have a more intimate atmosphere than hotels and almost always cost less for the ample space provided. Here are seven B&Bs and inns we recommend. Many are on residential streets, away from bustling tourist areas like Times Square.
1871 House: Off prestigious Park Avenue, this five-story brownstone features such Old World details as high ceilings and marble fireplaces. Choose from seven apartments and guest rooms; all feature an antique iron or brass bed with a country quilt as well as tasteful touches like Oriental rugs. The Garden Room has a four-poster Ralph Lauren bed, a Normandy armoire, and large paintings. A French door leads to a private terrace, where aromatic lavender, roses, and other plants grace the deck.