With many new additions to the neighborhood, that means there are closures. We're sad to see some of these places go!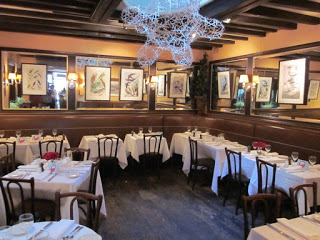 David Burke's Fishtail
The view from
the rooms in the front of the building will certainly be different without
Fishtail across the street. We're hoping to see a great restaurant in its
place soon to fill the void. 135 E. 62nd St


Texas de Brazil
We can let out a sigh (of relief) as "the Worst Steakhouse in NYC," Texas de Brazil, closes their UES location. Read more here. 1011 3rd Ave
Sirio
Owned and
operated by the Sirio family, the upscale, old school Italian restaurant in the
Pierre hotel will close on Feb. 20th after less
than four years in business. Read more here. 795 5th Ave

Swiftys
Swifty's, which
opened in 1999, served its final meal to regulars like Michael Kors, Aerin
Lauder, and Serena Boardman,
New York
Social Diary
reports. The news that the restaurant
was closing came as a surprise to many.
1007 Lexington Ave
Bread
Factory Café
The bakery chain with two
locations in Midtown and Hell's Kitchen closed its UES location. They served
pastries, juices and standard lunch fare.
785
Lexington Ave
Le Magnifique
The French bistro with a NY twist closed and is
now replaced with another French bistro, Casimir & Co. Judging from its less-than-stellar
reviews, Le Magnifique was anything but. 1022 Lexington Ave

Circus
The upscale Brazilian restaurant known for its
faithful reproductions of South American cuisine quietly closed after 18 years in
business. It was replaced by Maison Hugo.
132
E. 61st St
Teavana
Closed it's UES location on 3rd Ave.
Moved to a different location:
Rouge Tomate
The Michelin-starred restaurant
closed its UES location in August and will soon open its new downtown location
in Chelsea. Luckily for its fans, the health-focused restaurant is expected to retain
its high quality and socially conscious food. 10 E. 60th St
Park Avenue
The popular Uptown restaurant that changed with the seasons closed its doors and reopened downtown (still Park Ave, but now on the corner of 26th). Like before, the menu and decor changes every winter, spring, summer and fall. 100 E. 63rd St



Bed-and-Breakfast-style and quaintness in the heart of New York City
1871 House, a Charming Upper East Side New York Style Bed & Breakfast consisting of seven generously sized apartment-style suites housed in a classic 19th-century brownstone on an inviting, tree-lined residential street near Central Park, shopping and museums.