We are thrilled to announce that New York Pass has featured 1871 House in their interactive travel comparison Bang For Your Buck.

Created by travel experts, the online guide draws direct comparisons between London and New York (of course we are rooting for New York). The experts have analyzed 72 individual pieces of data to compare the cities side-by-side across Food and Drink, Transport, Accommodation, Environment and Tourist Attractions.

New York Pass has also pieced together personal recommendations and under the accommodation section, 1871 House is featured based on merit. Here's what they said about us:

"This NYC brownstone townhouse is designed to replicate a traditional English bed and breakfast, with traditional fireplaces and antique decor and ornaments, just a stone's throw from Central Park."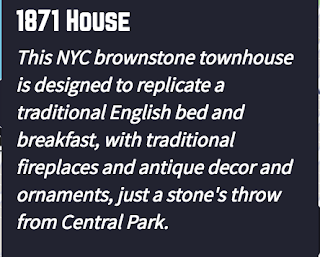 We couldn't agree more! We take pride in our cosy accommodation that was named after the year that it was built. We believe that our themed apartments are truly unique so we are pleased to receive such positive feedback.

If you're wondering which city is truly the best for your chosen categories please visit Bang For Your Buck , alternatively, if you're in need of a true Manhattan apartment then please contact us.