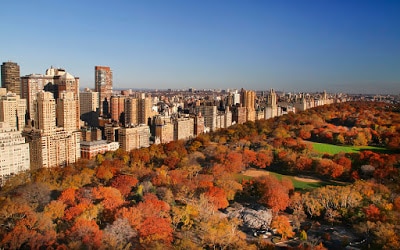 Autumn is a glorious time to visit New York City. Check out our list of must see events this season.
Events:
Woody Allen & the Eddy Davis New Orleans Jazz Band
The man responsible for 'Annie Hall', 'Blue Jasmine', and most recently 'Cafe Society' resumes his 11 year residency as a jazz clarinetist, Mondays at the Upper East Side's
Cafe Carlyle
. Perfect for cinephiles, jazz buffs, or anyone who's interested in seeing one of New York City's pearls in a different light.
Every Monday, October 24th – December 12th.
Open House New York
Open House New York 2016 is an annual weekend-long event during which historic buildings, architectural masterpieces, sundry landmarks and the best New York attractions welcome the public for great walking tours and nosing around. As one of the best NYC events in October, it's the perfect opportunity to explore normally off-limits parts of New York and have a good snoop. October 15 and 16 2016
New York City Wine and Food Festival
A collaboration between the Food Network, the Cooking Channel and Food & Wine magazine, the NYC Wine and Food Festival is a four-day fest featuring individual tastings, dinners and a backyard barbecue on Pier 92 with big-name chefs like Bobby Flay and Michael Symon.
October 13 to 16, 2016.
The New Yorker Festival
Preview upcoming shows and films, hear concerts from star acts like Andre Bird and Father John Mitsy, one-on-one interviews with Bruce Springsteen and enjoy panel discussions with Mr. Robot with actor Christian Slater. Friday October 7 2016 – Sunday October 9 2016
The Rink at Rockefeller Center
It's not a NYC winter without ice skating at Rockefeller Center, but did you know the rink reopens on October 8th? That means you'll be able to skate without all the holiday crowds.
NYC Marathon
More than 40,000 marathoners will run through all five boroughs over a 26.2-mile course. Stake out a lively spot—we recommend along Fourth Avenue in Park Slope, Brooklyn; First Avenue between 60th and 96th Streets in Manhattan; or Central Park South near the finish line—to cheer on the passing throng.
Okay, so Halloween isn't technically a holiday (although we all wish it was), but that doesn't mean you should skip it. NYC has a staggering variety of events including not one but two parades:
The Village Halloween Parade
and
Tompkins Square Park Halloween Dog Parade
. Other fun events include Scarecrows at the New York Botanical Garden and a spooky candlelight tour of Merchant's House Museum.
Various dates
Veterans Day
Celebrate Veterans Day with America's Parade is to honor the service of our veterans and to salute our currently serving military. This year's Parade will commemorate the 15th Anniversary of 9/11. The parade goes north on Fifth Avenue, from 26th to 52nd Street.
Macy's Thanksgiving Day Parade
This year is the 90th anniversary of the iconic Macy's Thanksgiving Day Parade. The parade starts at 9 am beginning at Macy's on 34th Street and ends at 77th Street and Central Park West. Also, many restaurants located nearby to the 1871 House offer special Thanksgiving dinners.


Bed-and-Breakfast-style and quaintness in the heart of New York City
1871 House, a Charming Upper East Side New York Style Bed & Breakfast consisting of generously sized apartment-style suites housed in a classic 19th-century brownstone on an inviting, tree-lined residential street near Central Park, shopping and museums.